🦃 11 Interesting Facts about Thanksgiving
Thanksgiving is a national holiday in the USA.  It's celebrated every year on the fourth Thursday of November, and originated as a harvest festival.  To get you in the mood for the celebrations, here's 11 fun and festive facts about Thanksgiving…
There is no actual record of turkey being eaten at the first Thanksgiving which was celebrated in 1621. It was celebrated over three days and it was said that Venison, Duck, Goose, Oysters, Lobster, Eel and Fish were likely served, alongside pumpkins and cranberries.
Abraham Lincoln proclaimed Thanksgiving a national holiday on October 3, 1863 after Sarah Joseph Hale – the woman who wrote 'Mary Had A Little Lamb' convinced Lincoln to make Thanksgiving a national holiday after writing letters for 17 years.
'Jingle Bells' was originally a Thanksgiving day song before becoming a Christmas Anthem. Jing Bells was an 1857 song title "One Horse Open Sleigh" written by James Pierpont who intended it to be a Thanksgiving Day song – it become so popular around December 25th that in 1859 the title was changed to "Jingle Bells" and eventually became one of the most popular Christmas songs ever.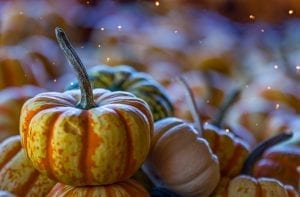 Butterball has been answering more than 100,000 turkey related questions since 1981. If you ever find yourself stuck and Google is not helping, you can simple call Butterball's Turkey helpline which is open every November to December.
Each year, there are about 46 million turkeys cooked – although not all Americans celebrate the holiday, there are still million of families gathering around the table to eat one of the most special meals of the year.
The night before Thanksgiving is known as 'Drinksgiving' – which comes as no surprise that bars but also car-services like Uber experience a boom of business during that night.
George H.W.Bush was the first present to officially pardon a turkey in 1989.
Statistical Thanksgiving Facts
The heaviest turkey ever recorded, according to the Guinness Book of Records, weighed a hefty 86 pounds!
The average number of calories consumed on Thanksgiving is between 3,000-4,500 – In total that's 8.1 billion calories consumed by Americans at Thanksgiving every year.
The world's most expensive Thanksgiving Dinner was in 2018 at New York City's Old Homestead Steakhouse – it cost an eye watering $150,000.
There's three times as many home cooking fires on Thanksgiving as on a typical day.
Do you know any interesting or fun facts about Thanksgiving?  Share them in the comments below!