10 of the Best Ever Cookie Recipes
Here's something a bit different to get your teeth into – for this fact file, we thought we'd line up ten of the best cookie recipes that families all over the web regularly mix up and bake for their loved ones. Do you have a favorite flavor or style of cookie or biscuit? Who knows – some of the picks in this list might just change your taste buds!
We've linked out to some of the most tantalizing-looking recipes on the web – meaning that you can start filling your biscuit barrel with some tasty treats as soon as you're ready to whisk up a storm!
Goat Butter Shortbread – yes – there are more than a few ways to make delicious, crumbly shortbread, and this particular recipe takes advantage of rich, tangy goat's dairy. It makes for a pretty special Christmas treat, and you can read all about how to make these moreish fancies by clicking here.
Peanut Butter Chunk Oatmeal – who ever thought about putting peanut butter and oatmeal together? Tieghan Gerard did – and we're glad of it! These irresistibly peanutty biscuits are super-easy to mix up and bake, and if you're already a fan of a crunchy cookie or two, then this is likely to be a solid fall-back recipe for you.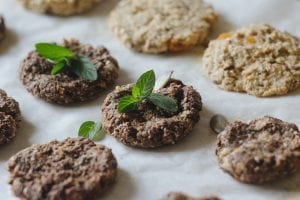 No-Bake Chocolate Chip and Peanut Butter – is it possible to make cookies without baking them? Certainly – Abbey Rodriguez shows us how to make fantastically tasty, peanutty, and chocolatey biscuits in less than ten minutes. It's a super-easy recipe and may well become one of your favorites!
Simple Banana Oatmeal Cookies – finding the choices so far a bit dizzying? You're going to want to head over to The Spruce Eats to try something a little more traditional. There's nothing quite like a syrupy, soft oatmeal cookie to snack on. Thankfully, this banana-flavored recipe's pretty much as simple as the treat itself, meaning you shouldn't have too much trouble getting prepared.
Pumpkin Choc Chip Cookies – we've found some great recipes over at Delish to highlight, too. This seasonal treat offered up by Lena Abraham is a fantastic addition to any autumnal cookie jar, great for Halloween parties and for simply munching on as the foliage falls down. The best part is you only need 15 minutes to prep them!
Nutella Cookies – yes, there is such a thing as a Nutella cookie, and it's as delicious and as gooey as it sounds. The best part is you can make it from home! If the idea of melty hazelnut centers really appeals to you, you should make a point of reading Lindsay Funston's fantastic recipe.
Pecan Pie Thumbprints – ever had a thumbprint cookie before? Pecan pie is something of an American delicacy, but who says they have to have all the fun? Candace Braun Davison offers up a recipe for sweet, crunchy cookies which not only mimic the classic Danish but which arguably improve on it. Bake and go in an hour and thirty minutes.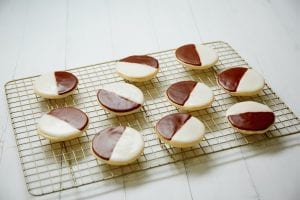 Coconut and Salted Caramel Thumbprints – let's stick with thumbprints for now and try something a little bit different. There's no need for you to make the caramel from scratch, which is nothing short of a miracle. Holly Erickson shows you how to make this unique treat from scratch, and it's much less work than you might imagine.
Carrot Cake Cookies – carrot cake is a delicious staple of the dessert aisles both at home and in the US, meaning that the idea of bringing this treat into biscuit form might sound too good to be true. However, Joanna Saltz shows us how to make 38 tasty, spicy cookies in just short of an hour and ten minutes. Can you spare that? Why not craft a carrot cookie or two?
Cookie Cake – why bake cookies when you can have the best of all worlds in a fantastic cake? This brilliant, moist cake is a huge cookie for you to share with the family – unless you manage to squirrel some of it away for yourself! Lauren Miyashiro shows us how you can make this world-changing treat in just 50 minutes or less – why not take a look?
Do you have a favorite cookie recipe that you'd like to tell the world about? Share it in the comments below!
This page was last modified on September 13, 2023. Suggest an edit