It's a delicious alcoholic drink produced across the tropics and enjoyed all over the world, here are eleven interesting facts about Rum:
Rum is an alcoholic drink made from sugarcane molasses.
Sugarcane was first cultivated in New Guinea, 10,000 years ago…
…and Christopher Columbus introduced sugarcane to the Caribbean in 1493.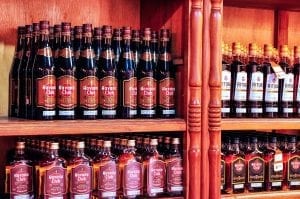 Rum is the worlds oldest spirit, with the first distillation taking place during the 1620s in the Caribbean.
Dating back to 1705, The oldest surviving brand is Mount Gay and it's still distilled in Barbados today.
Did you know, there's a national rum day?  Neither did we. Set a reminder in your calendar for the 16th August!
There are many different types of rum – light, dark, golden, black, spiced, flavoured and overproof.
The colour of rum is usually determined by the ageing process — oak cask aged rums become darker (and delicious) the longer they are aged whereas stainless steel aged rums remain virtually colourless.  The darker the rum, the richer the flavour.
Rum is produced all over the world with the majority made in the Caribbean and Central America, however it's also produced in Africa, Asia, Europe, Oceania and the USA.
The Royal Navy only stopped giving out a daily ration of rum to its sailors in the 1970s.  This ration was know as a tot, and was a full pint of navy strength rum!
Some of the world's most popular cocktails are based around rum, including the Piña colada, the Mojito, the Daquiri, and of course – the simple rum and coke.
Do you have any fun or interesting facts about rum that you'd like to share?  Let us know in the comments section below!