Abraham Lincoln is one of the great figures of American history, primarily known for his leadership during the American Civil War. He was assassinated by John Wilkes Booth on the 15th April 1865 at the Ford's Theatre. Here are 12 interesting facts about Abraham Lincoln, the 16th president of the United States.
Lincoln did not have a degree despite becoming a successful lawyer. His total schooling amounts to around a year, which was obtained from travelling teachers.
Just hours before his assassination, Abraham Lincoln created the Secret Service. However, they were not assigned to protect the commander-in-chief until two other presidents were assassinated.
A gang of counterfeiters from Chicago had attempted to snatch Lincoln's body from his tomb after his death. However, the secret service that he had created had infiltrated the gang and moved Lincoln's body to a much safer place. Lincoln's coffin has been moved a total of 17 times over the years and has been opened 5 times.
John Wilkes Booth (the person who assassinated Lincoln) had a brother who saved the life of Lincoln's son a mere few months before the assassination took place at Ford's Theatre. Robert Todd Lincoln, the oldest son of Abraham Lincoln, had fallen into an open space between the platform and a moving train. However, a hand soon reached out and pulled the president's son to safety. Robert immediately recognised the rescuer, as it was none other than the famous actor Edwin Booth.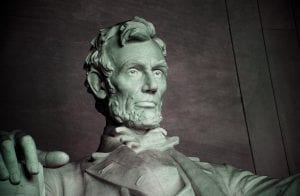 In another strange coincidence, Ford's theatre collapsed on the day of Edwin Booth's funeral.
Lincoln is the only president to hold a patent.
Although Illinois is generally known as the Land of Lincoln, Abraham Lincoln did not move there until he was 21 years old.
The main purpose of Abraham Lincoln in the American Civil War was to preserve the Union.
Lincoln was the tallest American president to date, standing at 6 ft 4".
The performance of John Wilkes Booth in The Marble Heart at Ford's Theatre was watched by Abraham Lincoln himself.
Lincoln's mother was killed by poisoned milk. This is believed to have been caused by drinking tainted milk from a cow that had ingested white snakeroot that is poisonous.
Lincoln's bodyguard, John Parker, was absent during the assassination of the president. It is believed that he went to the saloon next to Ford's Theatre during the intermission of the play, which also was the same place that John Wilkes Booth was drinking. No one knows where John was during the assassination.
Do you know any strange, fun or interesting facts about Abraham Lincoln that we've missed? Share them here in the comments section below!