The London Eye might not be one of the longest-standing landmarks of the UK capital, but it's still one of the most recognisable!  How much do you know about London's colossal wheel? 
Before you book yourself in for a ride, take in a few of the following intersting facts about The London Eye to familiarise yourself.  It's celebrating its 20th anniversary – where has the time gone?
Believe it or not, more people pay to visit the London Eye than any other attraction in the UK.  It welcomes over 3.75 million visitors each year!
That's more visitors – believe it or not – than the Taj Mahal receives during a 12-month period.  It's incredibly popular!
It's around 443 feet or 135 metres tall.  The wheel itself is 394 feet, or 120 metres, in diameter.
While the Eye officially opened to the public in March 2000, it had a maiden voyage on New Year's Eve, 1999, to mark the new millennium.  Only VIPs had access on the first opening.
However, there were teething problems.  There was an initial issue that allowed the wheel to spin without anyone on board – meaning it had to shut down for three months to iron out technical problems.
There are 32 different capsules, all of which have numbers – apart from 13.  The number 13 is thought to be unlucky, which is why the Eye avoids paying heed to it.  One of the capsules is a Royal carriage, designated as such during 2013.
On each spin, the London Eye can carry up to 800 people!  It's also a fairly steady ride, as the capsules only ever move 10 inches or 26cm a second.  Therefore, you get plenty of time to take in the panorama.  A trip should take around half an hour on average.
You can fit up to 25 people in each capsule, with a weight bearing of 10 tonnes.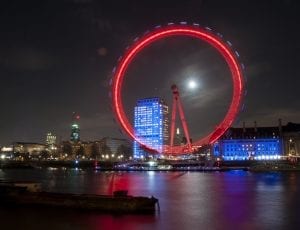 The Eye once acted as a moving nightclub, with Red Bull Academy temporarily turning each capsule into separate venues for music and parties in 2013.
It's also been a dining wheel, with exclusive meals served by the likes of Gordon Ramsay available for a limited time – for tens of thousands of pounds!
The Eye is made up of thousands of different parts, some of which source as far afield as Germany and Holland.  Skoda, who make cars in the Czech Republic, also contributed the main hub and spindle.
It's a huge hit with celebrities, with model Kate Moss thought to have visited the Eye at least 25 times.  Actress Jessica Alba is thought to hold the celebrity record, however, with over 31 trips on the wheel so far.
It was once the tallest ferris wheel in the world – but in the last 20 years, the likes of the colossal High Roller in Las Vegas, Nevada, have knocked it down a peg or two in the rankings.
Do you know any fun or interesting facts about the London Eye?  Share them with us in the comments section below!