Wales is a country with a proud, rich heritage.  However, it's famous for more than just dragons, leeks and rugby!
Even if you've holidayed in Wales hundreds of times, we think there's still a few interesting facts about Wales that'll surprise you.  Here's the pick of the crop!
In 2019, the Welsh population was 3.136 million.
Wales has its own language, though English is the more common tongue these days. It may not be as widely spoken as it once was, however, around a quarter of Welsh people do speak Welsh still.
You'll still find plenty of road signs across the UK translated into English and Welsh! There are actually plenty of resources out there, too, which will help you learn how to speak and write in Welsh.
In fact, around 750,000 people are fluent in Welsh worldwide. There's still a completely Welsh-language TV channel, S4C, which runs alongside Channel 4 in the UK.
Wales is, of course, famous for its rugby. In fact, the first ever international match was between England and Wales – and to this day, the two nations have a strong rivalry on the international stage.
Wales is famous for its heritage and for its areas of natural beauty. So much so, that around 42% of the country receives the grading of 'heritage coast'!  This means that its coastlines are protected and remain unspoilt.
The Principality Stadium is perhaps Wales' most famous arena. It's home to the Welsh Rugby Union team, and was originally called the Millennium Stadium for many years.  It's also home to largest retractable sports stadium roof on the planet!
Believe it or not, a Welsh man was once America's Most Wanted! Llewelyn Humphreys, hailing from Powys, was responsible for mob legend Al Capone's financial accounts – which should say plenty!
The dragon is the official animal of Wales, and St David is the patron saint of the country.
Wales is home to some of the most famous figures in entertainment – perhaps most notably legendary singers Tom Jones and Shirley Bassey. It was also the birthplace of author Roald Dahl, and footballers Ryan Giggs and Gareth Bale.
Mount Everest was named after a Welsh man! Sir George Everest, in fact, gives his name to the peak, and was a surveyor.
Outside of Scotland, Snowdon is the tallest mountain in Britain.  It measures 1085 meters in height and is one of just three Welsh summits that climb up over 1,000 meters above sea level. You can find it in the Snowdonia National Park.
The other two peaks are Carnedd Llewelyn (1064 meters) and Glyderau Fawr (1001 meters).
Ever wondered why daffodils are associated with Wales as well as leeks? It all stems from there being confusion over the Welsh translation for the latter.  Cenhinen, which is Welsh for leek, is very similar to Cehhinen Bedr, which means daffodil.  Therefore, both emblems were adopted to avoid any confusion!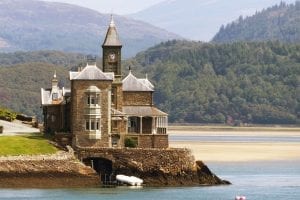 Wales doesn't have its own armed forces and is, in fact, a principality. This means it is ruled by a prince.  Specifically, the Prince of Wales, funnily enough!
The Queen's favourite dog breed, the Corgi originated in Wales.  Cor-ci literally means 'dwarf dog' – a reference to their little legs!
Traditionally, Welsh people would eat seafood for breakfast – cockles, specifically!
Do you have any fun or interesting facts about Wales that we've missed?  Share them here in the comments section below!