Buckingham Palace is one of London's best-known landmarks.  It is, of course, home to the Royal Family – but how much do you really know about the Queen's home estate?  Here are 15 facts about Buckingham Palace to get you better acquainted.
There are 775 different rooms in the Palace.  Only 52 of these are 'royal' bedrooms, with 188 of them used by staff.  There are almost 100 offices and a staggering 78 different bathrooms, too.
The Palace's original owner was the Duke of Buckingham, John Sheffield – hence its name.  It was only adopted as an official residence for sitting monarchs after King George III bought the Palace before Queen Victoria would take up residence there over 70 years later.
That also means that there needs to be plenty of doors!  At last count, there are over 1,500 of them in the Palace.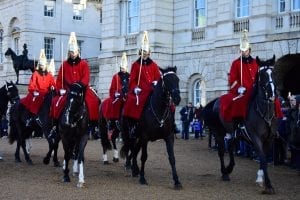 While US Presidents over the years have made state visits to the UK, and have visited Buckingham Palace, Woodrow Wilson was the first.  That means American heads of state have only been visiting the Queen for around 100 years.
The Palace uses a 'flag signal' to show when the Queen is in residence.  This applies to any reigning monarch, and if they are at home, the 'Royal Standard' flies atop the Palace.  When she's not around, the Union Jack flies, instead.
Buckingham Palace is famous for being a central point during the Suffragettes movement of 1914 when women marched to campaign for the right to vote.  Buckingham Palace came under threat from protestors who tried to scale the gates.
The architect responsible for the Palace's current look was actually sacked from his role.  John Nash helped to transform the original Buckingham House, but as he chose to exceed budgets, officials chose to fire him outright.
The Palace is built on top of a series of intricate, secret tunnels.  In fact, a man was found to be living there by George VI at one stage.
It is not just the Queen and Prince Philip who live at Buckingham Palace.  It is also the London domicile of Prince Edward and his wife Sophie of Wessex, as well as Prince Andrew, the Duke of York.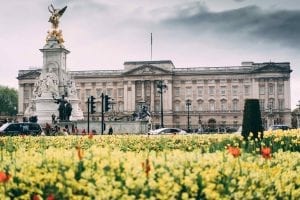 Buckingham Palace joined in rationing efforts by order of King George V during the First World War.
The Palace managed to survive up to nine separate bombing raids during the Second World War.
The Palace boasts many modern facilities you will find on the high street.  This includes a full cinema, a cash machine and even a Post Office and police station.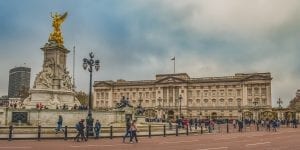 The Palace garden, too, boasts many different features and facilities.  For example, it has a private lake and its own full-size tennis court.
The 'balcony waving' tradition performed by royals at the Palace was started by Queen Victoria in 1851 when a reigning monarch appeared on the balcony for the first time to greet the public.
The Palace grounds extend up to nearly 40 acres, gardens included.
Do you have any interesting facts about Buckingham Palace that we've not mentioned?  Share them with us here in the comments section below!