The Eiffel Tower is a large wrought iron structure in the city of Paris, instantly recognisable and an iconic symbol of France. Here's 21 interesting facts about The Eiffel Tower:
The Eiffel Tower is named after Gustave Eiffel, a French civil engineer and entrepreneur, who's company designed and build the tower.
Construction on the tower started on the 28th January 1887…
…and it took between 150 and 300 workers over 2 years to build and was completed on 31st March 1889.
In 1991 The Eiffel Tower was declared a UNESCO world heritage site.
On the 3rd floor of the Tower, Gustave Eiffel had a secret apartment built exclusively to entertain from. It was off limits to the public for years but can now be looked at through a window by ticket holders.
The Eiffel Tower is held together by more than 2.5 million rivets!
It's repainted every 7 years… and requires 60 tonnes of paint.
For over 40 years The Eiffel Tower was the tallest building in the world, with the top at a vertigo inducing height of 324 metres!
If you're feeling very fit, you can climb to the top – beware though – there are 1,665 steps! So most people take the lift.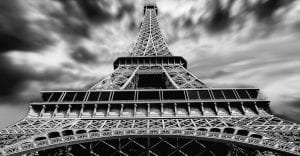 Little known fact: The Eiffel Tower actually has a total of 5 lifts!
It's consistently in the top 10 of the worlds most visited tourist attractions.Since the tower's opening in 1889, it has attracted over 300 million visitors!
The Tower was sold by a con artist named Victor Lustig for scrap metal.  Not once, but twice!
The Eiffel Tower is covered in 20,000 lightbulbs, making it absolutely sparkle at night.
It costs up to 25,50€ for a ticket to the top. (Price as of Dec 2019).
The tower is home to two restaurants – La bulle Parisienne, a French-style bistro, and the world famous Jules Verne restaurant.  Make sure you make a booking if you fancy dining here!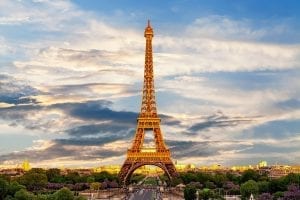 There is also a champagne bar at the top.
The Eiffel Tower appears in lots of famous films, including 'A View to a Kill' (James Bond), 'Superman 2',  'Lucy', and 'Hugo', to name just a few.
In 2014, to mark it's 125th anniversary, the British Virgin Islands launched a special tower-shaped $10 coin.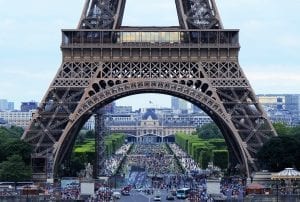 In the winter months, the Eiffel Tower shrinks by as much as six inches, due to the way metal reacts to cold weather.
There are 54 replicas of the Eiffel Tower of varying sizes of scale.  Blackpool Tower on the English coast is one of the oldest. Other replicas include one in Las Vegas, USA and six in Russia!
During the German occupation of France, Hitler ordered that the Tower be demolished.  Thankfully France refused.
Do you have any fun, strange or interesting facts about the Eiffel Tower that we've missed?  Share them with us in the comments section below!