🇼🇫 15 Wonderful Facts about Wallis and Futuna
Want to increase your awareness of the countries of the world? Take a look at these 15 fun facts about Wallis and Futuna to test your knowledge!
Wallis and Futuna is a collection of French islands in the South Pacific Ocean, within Oceania.
Its nearest neighboring countries are Tuvalu to the north west, Kiribati to the north, Tokelau to the north east, Samoa to the east, Tonga to the south east and Fiji to the west and south west.
It has a total area of 102 square miles (264 square kilometers).
Before you pack your boat and head off, be sure to mark Wallis and Futuna's coordinates on your map; 13.3000° S, 176.2000°
Wallis and Futuna's population was 15,561 in 2014.
The capital is Mata-Utu which has an area of 23 square miles (60 square kilometers) and a population of 1,191 (2003).
Wallis is named after the Cornish explorer Samuel Wallis.
Wallis and Futuna has a tropical climate with two seasons; it's hot and rainy from November to April and cool and dry from May to October but maintains an average temperature of 26.6° Oh yes, lovely!
This slice of paradise has a stretch of 80 miles (129 kilometers) of coastline and sandy beaches separating the sea from the forests and low hills – ideal for swimming, hiking, sunbathing and exploring!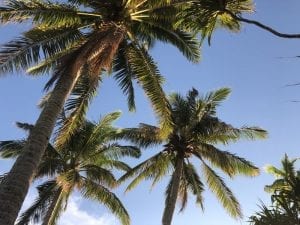 The average life expectancy here is 79 years.
The currency of Wallis and Futuna is the CFP Franc – make sure you stock up to pay for those cocktails!
Wallis and Futuna's official language is French.
The islands collectively produce yams, taro, sweet potatoes, breadfruit, cassava and fish.
Unsurprisingly, the country's industry consists mainly of tourism.
It exports copra, chemicals and construction materials.
Do you know any fun facts about Wallis and Futuna?  Share them in the comments below!
This page was last modified on November 8, 2021. Suggest an edit