16 Brilliant Facts about Basse-Terre
Like to know a little more about the capital cities of the world? Take a look at these 16 interesting facts about Basse-Terre!
Geographical stats…
Basse-Terre is the capital city of St Kitts and Nevis.
Wondering how to say the name of this wonderful city? It's pronounced Basse-tear.
The total land area of Basse-Terre is 2.5 square miles (6.1 square kilometers)…
…that's roughly 1/5 of the size of Slough.
Basse-Terre's population was 14,000 in 2014…
…that's just over 1/8 of the population of Slough…
…and gives it a population density of around 5,600 residents per square mile.
Basse-Terre is located 50 ft above sea level.
Residents of Basse-Terre are known as Kittitians.
Looking to fly yourself to Basse-Terre? You'll need the coordinates of 17.3000° N, 62.7333° E.
Make sure you visit the Kitts Scenic Railway if you're in Basse-Terre; the 3 hour long ride provides a great way to relax whilst you witness some of the island's most beautiful areas, all from the comfort of your seat!
Social intricacies
The official language of Basse-Terre is English.
If you fancy exploring more of this beautiful island, why not hire a car? You'll need to arrange a temporary driving permit before you're allowed on the road, though!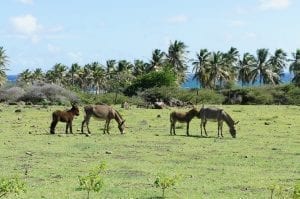 East Caribbean Dollar is the official currency here.
Saint Kitts and Nevis welcomed 107,000 tourists into the country in 2013, many of whom visited Basseterre for its beautiful beaches and ample diving, snorkelling, surfing, kitesurfing, windsurfing and jet skiing activities.
Do you know any fun facts about Basse-Terre?  Share them in the comments below
This page was last modified on November 15, 2021. Suggest an edit