16 Cool Facts about Castries
Like to know a little more about the capital cities of the world? Take a look at these 16 interesting facts about Castries!
Geographical stats…
Castries is the capital city of Saint Lucia.
Wondering how to say the name of this wonderful city? It's pronounced Kas-trees.
The total land area of Castries is 31 square miles (79 square kilometers)…
…that's roughly 3.5 times smaller than the Borough of Guildford.
Castries' population was 22,000 in 2014…
…that's around 6 times less than the population of the Borough of Guildford…
…and gives it a population density of around 710 residents per square mile.
Castries is located 7 ft above sea level.
Residents of Castries are known as Saint Lucians.
Saint Lucians living in Castries enjoy a tropical climate with little year round temperature variation and an average annual temperature of 29°C.
Looking to fly yourself to Castries? You'll need the coordinates of 14.0167° N, 60.9833° W.
Make sure you visit the fruit and vegetable market if you're in Castries; it's a highly popular, vibrant and colorful market, complete with huge piles of fresh fruit, ornate local crafts and invigorating spices!
Castries unfortunately suffered 4 major fires between 1796 and 1948, wiping out many of the beautiful wooden buildings.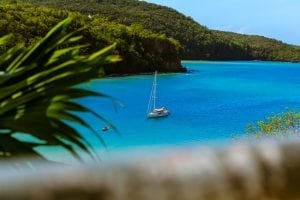 Social intricacies
The official language of Castries is English.
East Caribbean Dollar is the official currency here.
Saint Lucia welcomed 319,000 tourists into the country in 2013, many of whom visited Castries for its crystal clear waters, beautiful weather and stunning architecture.
Do you know any fun facts about Castries?  Share them in the comments below!
This page was last modified on November 15, 2021. Suggest an edit