16 Tantalising Facts about Tbilisi
Like to know a little more about the capital cities of the world? Take a look at these 16 fun facts about Tbilisi!
Geographical stats…
Tbilisi is the capital city of Georgia.
Wondering how to say the name of this wonderful city? It's pronounced Tuh-buh-lee-see.
The total land area of Tbilisi is 280 square miles (726 square kilometers)…
…that's slightly larger than Greater Manchester.
Tbilisi's population was 1,147,000 in 2015…
…that's less than half the population of Greater Manchester…
…and gives it a population density of around 4,096 residents per square mile.
Tbilisi is located 1,444 ft above sea level.
Residents of Tbilisi are known as Georgians.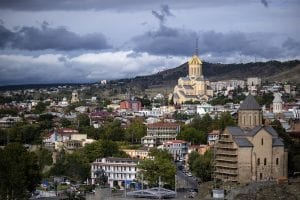 Georgians living in Tbilisi enjoy a humid subtropical climate with cold winters, warm-to-hot summers, an average annual temperature of 13°C and an annual high of 40°C – lovely!
Looking to fly yourself to Tbilisi? You'll need the coordinates of 41.7167° N, 44.7833° E.
Make sure you visit Narikala if you're in Tbilisi; it's an ancient fortress which has been overlooking and protecting this beautiful city since the 4th Century!
Fancy a relaxing spa treatment? The natural sulphur thermal baths in Tbilisi are highly popular with locals and tourists alike and are a place for socialising, partying and even weddings!
Social intricacies
The official language of Tbilisi is Georgian.
Georgian Lari is the official currency here.
Georgia welcomed 5,392,000 tourists into the country in 2013, many of whom visited Tbilisi for its grand architecture and stunning lakes.
Do you know any fun facts about Tbilisi?  Share them in the comments below!
This page was last modified on November 14, 2021. Suggest an edit