17 Astounding Facts about Astana
Like to know a little more about the capital cities of the world? Take a look at these 17 interesting facts about Astana!
Geographical stats…
Astana is the capital city of Kazakhstan.
Wondering how to say the name of this vibrant city? It's pronounced As-tah-nuh.
The total land area of Astana is 274 square miles (710 square kilometers)…
…that's slightly larger than Birmingham.
Astana's population was 1.002 million in 2017…
…that's less than 1/3 of the population of Birmingham…
…and gives it a population density of around 3,656 residents per square mile.
Astana is located 1,138 ft above sea level.
Residents of Astana are known as Kazakhstanis.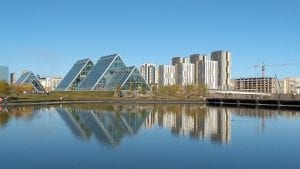 Kazakhstanis living in Astana enjoy an extreme continental climate with warm summers, very cold winters, a wide temperature range and an average annual temperature of just 3.5°C.
Sounds pretty cold doesn't it? In fact, Astana is the second coldest capital city in the world after Ulaanbaatar, Mongolia.
Looking to fly yourself to Astana? You'll need the coordinates of 51.1667° N, 71.4333° E.
Make sure you visit Khan Shatyr if you're in Astana; dubbed 'the world's largest tent', it's a huge shopping mall complete with restaurants, cinemas and even a jogging track!
Although building in Astana started back in 1830, it didn't become Kazakhstan's capital until 1997!
Social intricacies
The official languages of Astana are Kazakh and Russian.
Kazakhstani Tenge is the official currency here.
Kazakhstan welcomed 4,926,000 tourists into the country in 2013, many of whom visited Astana for its thriving modern culture, traditional delights and iconic buildings (such as the 'Chupa Chups' fountain, the government building known as the 'Lighter', a circus building called 'The Flying Saucer', two tall gold buildings known as the 'Buckets', the 'Cabbage' concert hall and Kazakhstan's National Archive, the 'Egg').
Do you know any fun facts about Astana?  Share them in the comments below!
This page was last modified on October 29, 2021. Suggest an edit