17 Crazy Facts about Chișinău
Like to know a little more about the capital cities of the world? Take a look at these 17 fun facts about Chișinău!
Geographical stats…
Chișinău is the capital city of Moldova…
Wondering how to say the name of this wonderful city? It's pronounced kee-shee-now.
The total land area of Chișinău is 47 square miles (123 square kilometers)…
…that's slightly larger than Leicester.
Chișinău's population was 725,000 in 2015…
…that's around 1.5 times the population of Leicester!
That gives it a population density of around 15,426 residents per square mile.
Chișinău is located 279 ft above sea level.
Residents of Chișinău are known as Moldovans.
Moldovans living in Chișinău enjoy a humid continental climate with windy and cold winters, followed by hot and dry summers and an average annual temperature of 15°C.
Looking to fly yourself to Chișinău? You'll need the coordinates of 47.0000° N, 28.9167° E.
Make sure you visit Ştefan cel Mare Central Park if you're in Chișinău; it's the oldest park in Moldova and is nicknamed 'The Park of Lovers' due to the number of couples that meet there.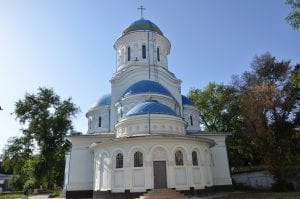 Social intricacies
The official language of Chișinău is Moldovan.
Moldovan Leu is the official currency here.
Chișinău generates around 60% of Moldova's GDP!
Moldova welcomed 11,500 tourists into the country in 2013, many of whom visited Chișinău for its green leafy parks and stunning architecture.
Just outside of Chișinău is Milestii Mici Village, a wine making plant which boasts cellars with the largest collection of wine in the world with more than 1.5 million bottles!
Do you know any interesting facts about Chișinău?  Share them in the comments below!
This page was last modified on November 14, 2021. Suggest an edit