Like to know a little more about the capital cities of the world and increase your chances of being crowned pub quiz champion? Take a look at these fun facts about Kiev!
1. Where exactly is Kiev?
Kiev (also known as Kyiv) is the capital city of Ukraine.
2. Here's how to get your tongue around the pronunciation.
Wondering how to say the name of this wonderful city? It's pronounced Key-ev (or Keev in the case of Kyiv – confused? Just stick to Key-ev!).
3. It's pretty big!
The total land area of Kiev is 324 square miles (839 square kilometers)…that's roughly 1.5 times the size of Leeds.
4. It's also packed with people!
Kiev's population was 2.884 million in 2017……that's almost 4 times the population of Leeds…and gives it a population density of around 9,080 residents per square mile!
5. Kiev isn't that far off the water.
Kiev is located 587 ft above sea level.
6. Kiev's temperature is really up and down.
Ukrainians living in Kiev enjoy a humid continental climate with high seasonal temperature variation and an average annual temperature of just 47.1°F. In fact, the highest temperature ever recorded in Kiev was a dizzying 102.9°F, whilst the lowest temperature ever recorded was a bone-rattling -25.9°F!
7. Grab the compass details.
Looking to fly yourself to Kiev? You'll need the coordinates of 50.4500° N, 30.5233° E.
8. The underground here REALLY goes underground!
Make sure you visit Arsenalna Metro Station if you're in Kiev; opened in 1960, it's still the deepest metro station in the world at a mind boggling 346 feet underground! We're not sure about you, but we can't stop thinking about The Jam's hit from 1982 when we imagine this underground station!
9. There used to be walls around Kiev.
Founded way back in 482 AD, Kiev has a rich history and was once a walled city; in fact, one of the 11th century gates into the city still stands and is a popular tourist attraction!
10. People lived here long before the city was founded.
Although Kiev wasn't founded until 482 AD, there has been archaeological evidence of large scale human settlements here dating back to 4300 BC!
11. What money is accepted in Kiev?
Ukrainian Hryvnia is the official currency here.
12. It's a very popular tourist spot.
Ukraine welcomed 24,671,000 tourists into the country in 2013, many of whom visited Kiev for its vast history, luscious green parks and fascinating architecture!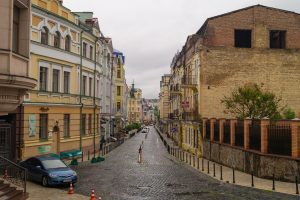 FAQs about Kiev
Is it safe to visit Kiev?
Yes, on the whole, Kiev is regarded as just about as safe as most European cities, but crime levels are generally low.
Is Kiev a cheap city to visit?
In many ways, yes! Many people regard Kiev as one of the most affordable cities to visit in the whole of Europe.
How much money is ideal to live on in Kiev per month?
Believe it or not, you should be able to sustain a basic lifestyle in Kiev on just $60 - $100 per month. Unbelievable!
Do you know any fun facts about Kiev?  Share them in the comments below!
This page was last modified on August 3, 2023. Suggest an edit