🇻🇪 17 Vibrant Facts about Venezuela
Looking to boost your knowledge of the big wide world? Why not start with these 17 fun facts about Venezuela!
With a northern coast on the Caribbean, Venezuela's neighbors are Colombia to the west, Brazil to the south and Guyana to the east.
The coordinates for Venezuela are 10.5000º N, 66.9667º
It has a total area of 352,144.5 square miles (912,050 square kilometers).
Venezuela's population was an estimated 28.44 million in 2020.
It's capital is Caracas which has an area of 167 square miles (433 square kilometers) and a population of 2.082 million (2015).
The average life span here is 72.06 years (2019).
Spanish is the official language of Venezuela, however an amazing 30 other languages are also officially recognised here.
Venezuela has the 2nd largest oil reserve in the world with an estimated 211 billion barrels (2012) which is 15.3% of the world's reserves, beaten only by Saudi Arabia with 265 billion barrels (2012).
The Venezuelan Bolivar is the currency to keep in your wallet here.
…and its industry consists of petroleum, food processing, iron ore mining and construction materials.
It also exports petroleum, steel, bauxite and aluminium, chemicals and agricultural products.
Angel Falls in Venezuela is the tallest uninterrupted waterfall in the world at a staggering 979m!
Interestingly, the streets of Caracas are closed off to cars every Christmas morning to allow the population to roller skate their way to church for mass! Brilliant!
Venezuela produces corn, sugarcane, sorghum, rice, beef and fish…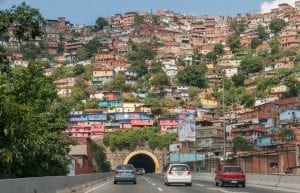 Venezuela has produced more Miss Worlds and Miss Universes than any other country!
Venezuela actually means 'little Venice', owing to the houses built on stilts which reminded explorers of Venice, Italy… sounds absolutely ideal to us!
Want to call your friends or family in Venezuela? You'll need to use the international dialling code +58.
Do you know any fun facts about Venezuela?  Share them in the comments below!