🇦🇼 20 Amazing Facts about Aruba
Looking to boost your knowledge of the Caribbean and improve your chances at the next pub quiz? Why not start with these 20 fun facts about Aruba!
Situated on the American continent, Aruba is an island in the Southern Caribbean Sea, 18 miles (29 kilometers) north of the coast of Venezuela.
Its coordinates are 5000° N, 69.9667° W.
Aruba's population reached 107,766 in 2020.
It has a total area of 74.5 square miles (193 square kilometers).
You might be surprised to find out that Aruba's official languages are Dutch and Papiamento.
Until 2010, Aruba was part of Netherlands Antilles – Aruba is now a country in its own right.
Aruba's capital is Oranjestad (translated to 'Orange Town' in Dutch), a bustling and metropolitan sea port with a population of 28,295 (2010).
The average life span here is 76 years (2017).
The currency is called the Aruban Florin.
Unlike much of the Caribbean region, Aruba has a dry climate and an arid landscape heavily speckled with cacti, meaning the humidity is low and rainfall is minimal. Sounds perfect to us!
To elaborate, it has an average annual temperature of 28°C (82°F), but the trade winds mean it doesn't get too hot.
Aruba is surrounded by clear blue seas and pure white sand… take us, take us now!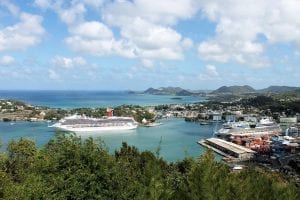 Whilst exploring, keep your eyes out for iguanas, goats, donkeys, strange boulder formations and the remains of a Spanish gold mine…
… It has been said that Aruba's name has been linked with the Spanish phrase 'oro huba', which means 'there was gold', though more likely, it probably comes from two Carib Indian words 'ora' meaning 'shell' and 'oubao' meaning 'island'.
It's thought that the Caquetio Indians of the Arawak tribe fled to Aruba perhaps as long as 4000 years ago!
Alonso de Ojeda, a Spanish explorer, was the first European to land on the Island in 1499.
Aruba's oldest building is called Fort Zoutman and was built in 1798 to protect Oranjestad from pirates.
Tourism is the biggest provider of the country's income; due to the boom in tourism over the past 80 years, construction has become a successful industry too.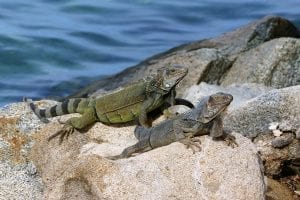 One happy Island is Aruba's slogan and it adorns the license plates of Aruban cars!
Want to call your friends in Aruba?  You'll need to use the international dialling code +297.
Do you have any fun facts about Aruba?  Share them in the comments below!
This page was last modified on November 4, 2021. Suggest an edit