Looking to increase your countries of the world knowledge and better your chances in the pub quiz? Why not start off with these 18 interesting facts about Fiji!
The Fiji Islands comprise 333 islands in the South Pacific – who knew?
The population of Fiji is 883,483 (2018), a small number considering the number of islands – it works out as an average of just over 2,500 residents per island!
But of these islands, only approximately 110 are inhabited, so that explains #2!
The islands boast beaches, coral gardens and rain forests, so let's get packing!
To call your friends in Fiji you'll need to use the international dialling code +679.
The total area of the islands amounts to 7,095 square miles (18,376 square kilometres).
Fiji sits in the Pacific Ocean, approximately 1,100 nautical miles northeast of New Zealand's North Island.
Fiji is part of Oceania – a collective name for the lands of the Pacific Ocean.
Fiji is a beautiful group of islands in Melanesia (a sub-region of Oceania which includes Vanuatu, the Solomon Islands, Fiji and Papua New Guinea).
Remarkably, the islands are not part of a continent!
Its capital, Suva, is located on the largest island, Viti Levu, where the majority of the population reside.
The people of Fuji have nothing to complain about weather-wise as the islands only experience a slight seasonal temperature variation, lucky them!
Fiji's currency is called the Fijian Dollar.
In 1970, Fiji gained independence after 96 years as a British colony.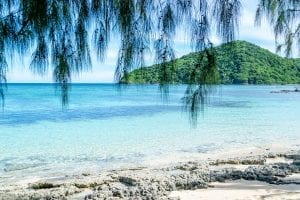 Fiji exports sugar, garments, gold, coconut oil, molasses, timber and fish – something nice there for everyone!
Only about 11% of Fiji's land is arable.
Do you know any strange, fun or interesting facts about Fiji that we've missed? Share them here in the comments section below!