🇬🇦 18 Great Facts about Gabon
Want to learn a little more about the countries of the world and improve your chances of winning the next pub quiz? Take a look at these 18 fun facts about Gabon!
Gabon is a Sovereign State on the west coast of Africa.
It shares a border with Equatorial Guinea to the north-west, Cameroon to the north, the Republic of the Congo to the east and south and the Gulf of Guinea to the west.
Gabon has an area of 103,347 square miles (267,667 square kilometers).
The coordinates for Gabon are 0.3833° N, 9.4500°
This African country had a population of 2.226 million in 2020.
Gabon's capital city is called Libreville, which had a population of 703,940 in 2013.
The terrain here is flat coastal plains, with rainforests and hills inland and savannah to the east and south.
Because it lies directly on the equator, Gabon enjoys a tropical climate with year round hot and humid weather. Sounds incredible!
There is an amazing 550 miles (885 kilometers) of coastline to explore here, with incredible sandy beaches and beautiful blue seas. We want to go!
Gabon is lucky enough to be home to around 80% of Africa's Gorilla population!
The average life expectancy here is 66.1 years (2016).
Like many other African countries, the currency of Gabon is the CFA franc.
French is the official language of Gabon. Oui, monsieur! You will find, however, that Fang, Myene, Nzebi, Bapounou/Eschira and Bandjabi are spoken here too! Think we'll stick to French for now!
Gabon has many ancient tribes amongst its population, with the 4 main ones being Fang, Bapounou, Nzebi and Obamba. Incredible!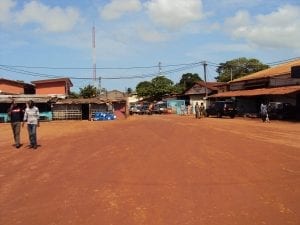 The country's industry consists of chemicals, petroleum extraction and refining and manganese and gold mining.
Gabon exports crude oil, manganese, uranium and timber.
The international dialling code for Gabon is +241.
Do you know any fun facts about Gabon?  Share them in the comments below!
This page was last modified on November 5, 2021. Suggest an edit