Like to learn a little more about the capital cities of South America? Take a look at these 18 interesting facts about Bogotá!
Geographical stats…
Bogotá is the capital city of Colombia.
Wondering how to say the name of this wonderful city? It's pronounced Bo-go-ta – easy!
The total land area of Bogotá is 613 square miles (1,587 square kilometres)…
…that's roughly the same size as Greater London.
Bogotá's population was 7,413,000 in 2018…
…that's around 1,500,000 less than Greater London…
…and gives it a population density of around 15,930 residents per square mile.
Bogotá is located 8,660 ft above sea level.
Residents of Bogotá are known as Bogotana, or Colombians.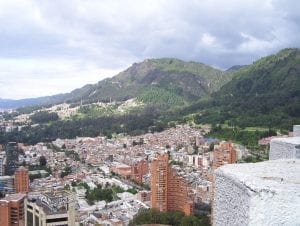 Bogotana enjoy a subtropical highland climate with little seasonal temperature variation and an average annual temperature of 14.4°C.
Looking to fly yourself to Bogotá? You'll need the coordinates of 4.7110° N, 74.0721° W.
Make sure you take a graffiti tour if you're in Bogotá; famous for its street art, many buildings in Bogotá have been adorned with incredible graffiti that is well worth seeing!
Social intricacies
The official language of Bogotá is Spanish.
Did you know that Bogotá was named the UNESCO City of Music in 2013? With festivals throughout the year, Bogotá is the place to be if you love live music!
Colombian Peso is the official currency here.
As one of the largest coffee producers in the world, you're never too far from a delicious freshly brewed coffee in Bogotá!
Looking for the perfect gift for your loved one? Well, Colombia produces nearly 60% of the world's emeralds, many of which are available to purchase in Bogotá!
Colombia welcomed 2,288,000 tourists into the country in 2013, many of whom visited Bogotá for its sophisticated and welcoming blend of gorgeous historical buildings and modern chic lifestyle.
What is Bogota known for?
Bogota is the capital city of Colombia, South America, although it's mostly known for producing the world's finest Emeralds. Did you know - three quarters of all the emeralds in the world come from Colombia?!
How do you pronounce Bogota in English?
Wondering how to say the name of this wonderful city? It's pronounced Bo-go-ta — easy!
Do you have any fun, interesting or strange facts about Bogota that we've not mentioned?  Share them here in the comments section below!