18 Marvellous Facts about Mauritius
Want to find out a little more about the countries of the world? Take a look at these 18 interesting facts about Mauritius…
Mauritius is a tropical island nation located in the Indian Ocean, roughly 2,000 kilometres off the southeast coast of the African continent, just off the east coast of Madagascar.
The coordinates for Mauritius are 20.2000° S, 57.5000°
In 2018 Mauritius was home to 1.265 million lucky people!
Mauritius has a total area of 787.65 square miles (2040 square kilometres).
The Mauritian coastline is roughly 205 miles (330 kilometres) long and is surrounded by beautiful coral reefs and gorgeous white beaches… paradise!
Port Louis is the capital of this beautiful island which has an area of 18 miles square (46.7 kilometres) and a population of 148,147 (2017).
Mauritius was the exclusive home of the Dodo before it became extinct in the mid 1600's! In fact, the Dodo was what inspired Lewis Carroll to write Alice in Wonderland!
The life expectancy here is 74.51 years (2017).
If you'd like to take some spending money with you to Mauritius, be sure to get it changed into Mauritian Rupees!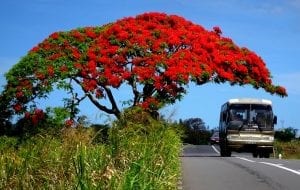 Mauritius isn't home to any wild animals and even the snakes aren't poisonous, meaning you can trek across this beautiful island without fear!
Even the shoreline is protected from sharks and jellyfish thanks to the coral reef that surrounds the island, meaning you can paddle in peace!
The official language of Mauritius is English, although people speak French as a means of general communication.
…They also process food here (mostly milling sugar) and create textiles, clothing, chemicals and metal products…
Their main exports include sugar, rum, clothing, textiles, cut flowers and molasses.
Mauritius is the most densely populated and richest nation in Africa.
Apparently, if you wish to give someone a gift here, it is polite to do so with your right hand only… you have been warned!
Want to call your friends or family in Mauritius?  You'll need to use the international dialling code +230.
Do you have any interesting or fun facts about Mauritius that we've not covered?  Share them with us in the comments section below!