17 Natty Facts about Nuuk
Like to know a little more about the capital cities of the world? Take a look at these 17 fun facts about Nuuk!
Geographical stats…
Nuuk is the capital of Greenland.
Wondering how to say the name of this wonderful town? It's pronounced N-yoo-uu-k.
The total land area of Nuuk is 265 square miles (690 square kilometers)…
…that's almost twice the size of Sheffield.
Nuuk's population was 16,992 in 2015…
…that's roughly 1/33 of the population of Sheffield…
…and gives it a population density of only 64 residents per square mile!
Nuuk is located 16 ft above sea level.
Residents of Nuuk are known as Greenlanders.
Greenlanders living in Nuuk enjoy a polar climate with cool summers, cold and snowy winters and an average annual temperature of -1.4°C!
Looking to fly yourself to Nuuk? You'll need the coordinates of 64.1750° N, 51.7389° W.
Make sure you join a whale watching tour if you're in Nuuk; it's a rare opportunity to get up close to these majestic creatures in their natural habitat.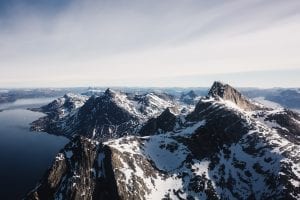 Social intricacies
The official language of Nuuk is Greenlandic.
Nuuk was founded in 1728 as the first town in Greenland! Despite being classed as a town for nearly 300 years, there have been settlements in the area for around 4,200 years!
Danish Krone is the official currency here.
Unlike in most capitals, residents of Nuuk often use boats and helicopters rather than cars as a mode of transport due to the lack of road infrastructure!
Greenland welcomed 79,873 tourists into the country in 2014, many of whom visited Nuuk for its rich culture and stunning scenery.
Do you have any interesting facts about Nuuk that we've not mentioned?  Share them here in the comments section below!
This page was last modified on November 14, 2021. Suggest an edit