Bangladesh is in South-East Asia and its neighbours are India to the West, North and East, Myanmar to the south-east and the Bay of Bengal to the south.
It has a total area of 56,977 square miles (147,570 square kilometres).
The coordinates for Bangladesh are 23.7000° N, 90.3500°
It has a population of 161.4 million (2018)…
…which works out as a population density of 2890 people per square mile, more than 4 times that of the UK, making it the most densely population country in the world!
Bangladesh's capital is Dhaka, which has an area of 315 square miles (816 square kilometres) and a population of 8.906 million (2011).
The average life span here is 72.05 years (2017).
Bangladesh is mostly made up of incredibly flat, low-lying land which is subject to annual flooding from melting snow from the Himalayas.
Its landscape is made up of 67% arable land, 16% forest and woodland, 4% meadows and pastures, 2% permanent crops and 11% 'others'.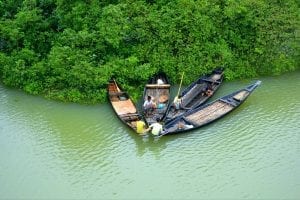 An incredible 95% of the population here are farmers! Despite this however, more money is made from exporting garments than agriculture.
Despite Kabaddi (Ha-Doo-Doo) being the national sport, cricket is by far the most popular sport here.
Bangladesh is home to Cox's Bazar, the world's longest uninterrupted beach at an amazing 77 miles (125 km) long! Let's go!
You must always pass things or shake hands with your right hand as using your left is considered rude!
Bangla (Bengali) and English are the official languages of Bangladesh.
The Bangladeshi Taka is the currency here.
…and has an industry consisting of cotton textile, jute, garments and tea processing.
Bangladesh exports jute and jute goods, garments, leather, frozen fish and seafood.
To call your friends in Bangladesh, you'll need to use the international dialling code +880.
Do you have any interesting or fun facts about Bangladesh that we've not mentioned?  Share them here in the comments section below!