19 Brilliant Facts about Benin
Want to learn a little more about the countries of the world? Take a look at these 19 super interesting facts about Benin!
Benin is a narrow, key-shaped, north-south strip of land situated in West Africa; it's officially called the Republic of Benin and was formerly called Dahomey.
It is bordered by by Togo to the west, Bight of Benin to the south, by Nigeria to the east and by Burkina Faso and Niger to the north.
The coordinates for Benin are 6.4667° N, 2.6000°
It has a total land area of 43,482 square miles (112,620 square kilometres) – roughly one eighth of the size of its neighbor, Nigeria.
Benin had a of population 12.12 million in 2020.
Porto-Novo is the capital city of Benin; it has a total area of 42.5 square miles (110 square kilometres) and had a population of 264,320 in 2013.
The average life span here is 61.77 years (2019).
Unsurprisingly, Benin experiences a hot and humid climate. The coastal areas receive annual rainfall of 53.5in (1,360mm), pretty normal for coastal West Africa.
If you're planning a trip here, expect to see a mixture of terrain, featuring marshy plains, lakes, lagoons, sandy costal plains, rivers, flat lands, rocky hills, forests – sounds like you could have a great little adventure here!
A rather large 31% of Benin's land is made up of woodland.
Animal lovers should visit the Reserve du W du Niger and Pendjari National Park (located in the north and northwest part of the country) where they can expect to see elephants, lions, antelopes, hippos and monkeys.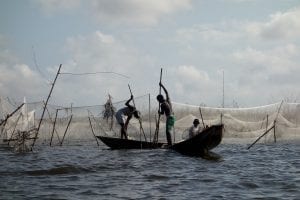 French is the official language here – oui, bien sûr!
The currency here is called the West African CFA franc.
It is traditional to offer food and drink to visitors here, but beware, it is considered rude to refuse this kind hospitality so we hope you're hungry!
Benin grows cotton, yams, corn, cassava, beans, peanuts and cashews, rears livestock and produces palm oil.
Its industry consists of food processing, textiles, cement and construction materials.
It also exports cotton, cashews, textiles, shea butter, palm products and seafood.
Want to call your friends in Benin?  You'll need to use the international dialling code: +229.
Do you know any fun or interesting facts about Benin?  Share them in the comments below!
This page was last modified on October 20, 2021. Suggest an edit