🇨🇰 19 Cool Facts about Cook Islands
Looking to boost your local knowledge of this magical country? Take a look at these 19 fun facts about Cook Islands!
Geographical stats…
Cook Islands is an archipelago of 15 islands in the South Pacific Ocean.
It is bordered by American Samoa, Wallis and Futuna, Tokelau and Tuvalu to the northwest, Kiribati to the north, French Polynesia and Pitcairn Islands to the east, New Zealand to the southwest and Tonga, Niue, Fiji, New Caledonia and Vanuatu to the west.
Fancy popping across to this popular scuba-diving destination for some sand, sea and sun? Head for the coordinates 21.2000° S, 159.7667° W for your very own adventure on the Cook Islands!
The terrain here varies across the islands, but generally speaking the northern islands are low coral atolls, whilst the more southern islands are hillier and often volcanic.
The total land area of Cook Islands is 92 square miles (237 square kilometers)…
…that's slightly smaller than Birmingham.
Cook Islands' population was 17,379 in 2018…
…that's around 1/100th of the population of Birmingham!
Residents here are known as Cook Islanders.
The capital is Avarua; it had a population of 4,967 in 2011.
Social intricacies
The official languages of Cook Islands are English and Cook Islands Maori.
Cook Islands Dollar is the official currency here and it's linked to the New Zealand Dollar, which is also widely accepted!
The average life span here is 76 years.
Cook Islanders are known for their creative and intricate wood carvings, the skills for which are passed down through the generations!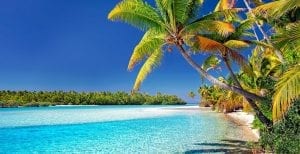 Industry insights…
This picturesque country grows coconuts, pineapples, papaya, tomatoes, coffee, bananas, yams, taro, beans and citrus; they also rear pigs and poultry and catch fish.
Its industry consists of tourism, fishing, clothing, handicrafts and fruit processing.
The primary exports include copra (dried coconut kernels), papaya, fish, coffee, pearls and pearl shells, clothing and fresh and canned citrus fruit.
Cook Islands are actually the second largest producer of black pearls!
Do you know any fun facts about the Cook Islands?  Share them in the comments below!
This page was last modified on November 13, 2021. Suggest an edit