19 Fun Facts about the Marshall Islands
Fancy yourself as a pub-quiz hero? Test yourself and brush up on your knowledge with these 19 interesting facts about the Marshall Islands!
As the name suggests, the Marshall Islands are an island country located near the equator in the Pacific Ocean; they lie almost midway between Indonesia and Hawaii and form the most easterly island group in Micronesia (a sub-region of Oceania that comprises thousands of small islands in the western Pacific Ocean).
The coordinates are 7.0667° N, 171.2667° E.
This country is 2,486 miles (4,000 kilometres) northeast of Australia.
The Marshall Islands consist of 24 low-lying coral atolls and 1,156 individual islands and islets, though only 4 islands and 19 atolls are inhabited. Still, lots to explore!
It has an approximate area of 70 square miles (181 square kilometres).
The islands have a total coastline 229 miles (370 kilometres).
The population in 2018 was 58,413.
The temperature averages around 27°C (81°F) – it's generally very hot and humid here!
A large coral island comprising of sixty four islands called Majuro is the capital of the Marshall Islands. Majuro is the largest city in the Marshall Islands with a population of 27,797 and a total area of 3.7 square miles (9.6 square kilometres) (2011).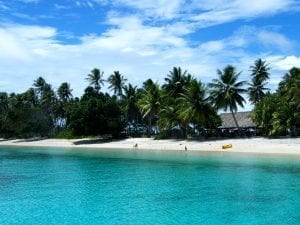 The official languages are Marshallese and English.
The US Dollar (USD) is the currency here.
Micronesian islands were often visited, settled, colonised or occupied by the British, Germans, Russians, Americans and the Japanese.
Commercial crops that are produced here consist of coconuts, tomatoes, melons, and breadfruit.
Modern industries such as handicrafts, fish processing, copra, banking, and insurance are all part of the economy.
Fish, coconut oil, and Trochus shells (pearly sea-snail shells) are the Marshall Island's major exports; trading partners include Australia, New Zealand, Japan, Singapore, Guam and the USA.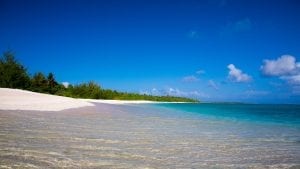 With a huge central lagoon, the Kwajalein Atoll is the largest coral atoll on the planet!
If you're into your diving or snorkelling you'll be interested to know that there's a lot to explore; from the 800 species of fish and 160 species of coral to the numerous offshore World War II shipwrecks, the beautiful clear-blue waters that surround the Marshall Islands have something to offer everyone.
Due to climate change and the fact that the atolls and islands are only a couple of metres above sea level, the Marshall Islands are at serious threat of a rising sea level.
To call your friends here, you'll need to use the international dialling code +692.
Do you have any fun or interesting facts about the Marshall Islands that you'd like to share?  Let us know in the comments section below!