19 Interesting Facts about Netherlands Antilles
Looking to boost your knowledge of this dissolved country? Take a look at these 19 interesting facts about what was once the Netherlands Antilles!
Geographical stats…
Netherlands Antilles was once a group of several islands in the Caribbean which formed part of Netherlands.
In 2010 the Netherlands Antilles was disbanded as a nation, with Aruba, Curacao and Bonaire all becoming countries in their own right.
Its nearest neighbours are Dominican Republic and Puerto Rico to the north, British Virgin Islands, Anguilla, Montserrat, Guadeloupe, Dominica, Martinique and Saint Lucia to the northeast, Saint Vincent and the Grenadines and Grenada to the east and Venezuela to the south.
To explore these beautiful islands for yourself, head for the coordinates of 12.1766° N, 68.9856° W.
The islands' terrain is generally hilly with volcanic interiors – it really is beautiful!
The total land area of Netherlands Antilles was 309 square miles (800 square kilometres)…
…that's more than 3 times the size of Birmingham.
Netherlands Antilles' population was 228,693 in 2010…
…that's less than 1/4 of the population of Birmingham!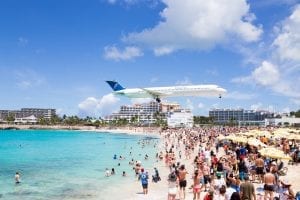 Residents here were known as Dutch Antilleans.
The capital was Willemstad; it had a population of 150,000 in 2013 and the city centre is designated a UNESCO World Heritage Site!
Dutch Antilleans enjoy a tropical climate, moderated by northeast trade winds.
If you're a bit of an adrenaline junkie, head for Maho Beach in Sint Maarten. The beach is only very short, with the sea on one side and an airport on the other! Despite passenger jets flying just a few feet off the ground as they prepare to land, this is a popular beach for sun worshipers, adrenaline junkies and plane spotters alike!
Social intricacies
The official languages of Netherlands Antilles were Dutch and English.
Netherlands Antillean Guilder and US Dollar were the official currencies here.
The average life span here is 77 years.
Industry insights…
Netherlands Antilles grew peanuts, vegetables, tropical fruits and sorghum.
Its industry consisted of tourism, petroleum refining, petroleum transshipment and light manufacturing.
The main exports include petroleum products.
Do you know any fun or interesting facts about Netherlands Antilles that we've missed? Share them here in the comments section below!
This page was last modified on December 11, 2020. Suggest an edit