🇳🇮 19 Nutty Facts about Nicaragua
Want to learn a little more about the countries of the world? Take a look at these 19 interesting facts about Nicaragua!
Nicaragua is the largest country in Central America.
It shares a border with Honduras to the north and Costa Rica to the south, with the Pacific Ocean to the west and the Caribbean Sea to the east.
This stunning country has an area of 49,998 square miles (129,494 square kilometers).
Nicaragua's population was 6.625 million in 2020.
The capital city is called Managua; it covers an area of 210 square miles (544 square kilometers) and has a population of 2.1 million (2010).
The terrain here is a wonderful mix of extensive coastal plains, with stunning mountains further inland – perfect for the explorers amongst you!
To head for its sandy beaches and beautiful mountains, remember these coordinates: 13.0000° N, 85.0000°
Nicaragua enjoys a tropical climate throughout its lowlands, with the temperature dropping slightly in the mountainous inland.
Home to a number of unique species of fish not found anywhere else on Earth, Lake Nicaragua is the largest naturally formed lake in Central America. Incredible!
Nicaragua is also home to the oldest city in continental Latin America, Granada (not to be confused with the city in Spain!). This wonderful city steeped in history and stunning architecture is understandably a huge tourist attraction.
The average life expectancy here is 74.07 sun-kissed years (2017).
Should you wish to sip a Flor de Caña (locally produced rum) upon a sandy beach, remember to pack a few Cordobas; the currency of Nicaragua.
Spanish is the official language of Nicaragua; 'una cabaña de playa para dos personas por favor' – 'a beach hut for two please'!
Even more popular than football, the national sport here is baseball.
There are no street names in Nicaragua, instead they use reference points to landmarks for addresses. These landmarks can, and do change, however! We can imagine this could get a little confusing…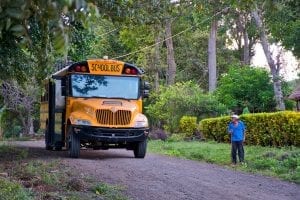 The country's industry consists of food processing, textiles, chemicals, machinery and metal products.
Nicaragua exports coffee, cotton, tobacco, bananas, shrimp and lobster… something to eat, drink and wear – ideal!
Want to call your friends or family here? The international dialling code for Nicaragua is +505.
Do you know any fun facts about Nicaragua?  Share them in the comments below!
This page was last modified on November 4, 2021. Suggest an edit