🇱🇨 19 Spectacular Facts about St Lucia
Looking to boost your knowledge of the West Indies? Why not start off by learning these 19 fun facts about Saint Lucia!
St Lucia is a picturesque island in the Eastern Caribbean Sea.
Its nearest neighboring countries are Martinique to the north, Barbados to the southeast and Saint Vincent and the Grenadines to the south.
The coordinates for St Lucia are 14.0167° N, 60.9833°
The terrain here is volcanic and mountainous with broad fertile valleys and picture-perfect sandy beaches – it truly looks like paradise!
The total land area of Saint Lucia is a cosy 238 square miles (617 square kilometres).
St Lucia's population was 181,889 in 2018. To put that into perspective, that's roughly the same as Ipswich!
The capital is Castries which covers an area of 30.5 square miles (79 square kilometres) and had a population of 70,000 in 2013.
The average life span here is 76.20 sandy and sun kissed years. (2019)
During the 17th and 18th Centuries, St Lucia changed between French and British rule 14 times! It finally became independent in 1979.
St Lucians enjoy a tropical climate with a dry season from January to April and a rainy season from May to August.
Whenever you decide to visit, you needn't worry much about the temperature – on average they see yearly highs of 31˚C and lows of 23˚C… how on earth do they cope?!
St Lucia is home to some of the best scuba diving spots in the world; you can see all manner of wildlife including whales and turtles!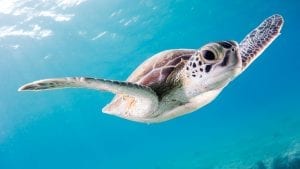 If you would prefer to be above rather than below water, why not take advantage of their wide range of water sports, including sailing, waterskiing, kayaking, paddle boarding, wake boarding, paddle boating, jet skiing and even water taxi tours!
Would you rather be on dry land? There's plenty to do from laying out on the beach with a nice cold drink, to trekking through the jungle or hiking up the Pitons – two volcanic mountains on the islands west coast.
The official languages of St Lucia are English and French Patois.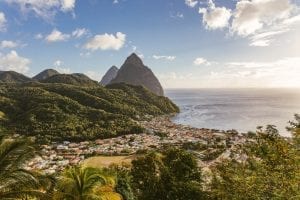 Fancy a few cocktails and supper on the beach? You'll need to exchange your pounds for East Caribbean Dollars, the official currency in St Lucia.
St Lucia grows bananas, coconuts, citrus fruits, cacao and vegetables – a haven for vegetarians and vegans!
Its industry consists of tourism, clothing, corrugated cardboard boxes, beverages, and the assembly of electronic components.
St Lucia also exports bananas, clothing, vegetables and cacao.
Do you know any fun facts about St Lucia?  Share them in the comments below!
This page was last modified on October 7, 2021. Suggest an edit