21 Great Facts about St Vincent and the Grenadines 🇻🇨
If you're heading off on honeymoon or moving here to work, take a look at these 21 interesting facts about St. Vincent and the Grenadines to boost your local knowledge!
Geographical stats…
Saint Vincent and the Grenadines is a small archipelago of around 32 islands and cays in the south of the Caribbean Sea.
Despite there being 32 islands, only 9 are inhabited.
Its nearest neighbours are St Lucia and Dominica to the north, Barbados to the east, and Grenada, Trinidad and Tobago and Venezuela to the south.
Set your boat for the coordinates 13.1667° N, 61.2333° W to find yourself on the beautiful sandy shores of St Vincent and the Grenadines!
The terrain here is volcanic and mountainous, with stunning sandy beaches and crystal clear waters.
The total land area of St Vincent and the Grenadines is 150 square miles (389 square kilometres)…
…that's around 1.5 times the size of Birmingham.
St Vincent and the Grenadines' population was 110,210 in 2018…
…that's around 10% of the population of Birmingham!
Residents here are known as Vincentians. Colloquially they are known as Vincies.
The capital is Kingstown which had a population of 27,000 in 2014.
Collectively, the buildings in Kingstown are known to have around 400 arches, gaining it the nickname 'City of Arches'.
Saint Vincentians enjoy a tropical climate with little seasonal temperature variation. There is a rainy season from May to November.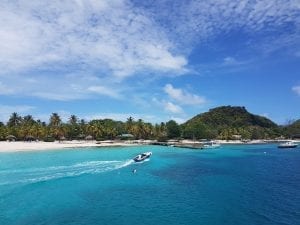 Social intricacies
The official languages of St Vincent and the Grenadines are English and French Patois.
Before you go, exchange your spending money for East Caribbean Dollars, the official currency here, to purchase a few delicious rum cocktails to sip on the beach!
Did you know, many of the scenes in the first three 'Pirates of the Caribbean' films were filmed in St Vincent and the Grenadines?
St Vincentians have an average life span of 75 years.
Want to call family or friends in St Vincent and the Gernadines?  You'll need to use the international dialling code +1784.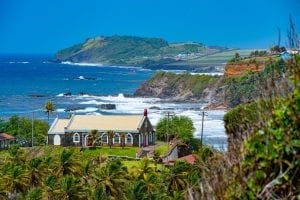 Industry insights…
This beautiful country grows bananas, sweet potatoes, coconuts and spices; they also rear cattle and catch fish.
Its industry consists of food processing, furniture, clothing, cement and starch.
St Vincent and the Grenadines also exports bananas, dasheen/taro (a tropical asian plant), eddoes (a tropical vegetable), arrowroot starch and tennis rackets.
Do you know any fun facts about St Vincent and the Grenadines?  Share them in the comments below!