🇱🇷 20 Lovely Facts about Liberia
Looking to boost your knowledge of Africa and increase your chances of winning the next pub quiz? Why not start off by learning these 20 fun facts about Liberia!
Liberia is a country slightly smaller than England, located in West Africa.
Did you know that 'Liberia' is actually Latin and translates to 'Land of the Free'?
It shares a border with Guinea to the north, Ivory Coast to the east and Sierra Leone to the west. It also has a coastline along the North Atlantic Ocean to the south.
Want to call your friends in Liberia?  You'll need to use the international dialling code +231.
This hot country has an area of 43,000 square miles (111,370 square kilometers).
Liberia's population was 5.058 million in 2020.
The population here is made up of around 16 different ethnic groups and tribes!
The capital city is Monrovia; it covers an area of 13.7 square miles (35.5 square kilometers) and has a population of 37,061 (2017).
The terrain here is mostly flat to rolling plains, with low mountains in the northeast.
If you're planning on a sailing trip to the warm and sandy shores of Liberia, you'll need the coordinates, which are 6.3167° N, 10.8000°
Liberia enjoys a tropical climate, with hot, humid and dry winters, followed by wet and cloudy summers.
The average life expectancy here is 64.1 years (2019).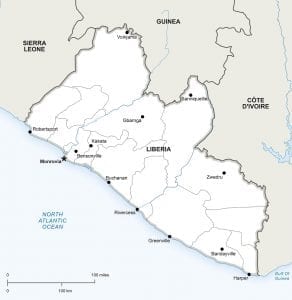 The official currency of Liberia is the Liberian Dollar.
Liberia was founded and colonised by freed American slaves, who named the capital city after US President James Monroe!
Boasting the second largest tropical rainforest in West Africa, Liberia is home to the rare and endangered (and extremely cute) Pygmy Hippopotamus!
It is also home to around 700 species of bird!
Surprisingly, English is the official language of Liberia, although around 20 ethnic languages are also spoken here.
Liberia grows coffee, rubber, rice and cacao, rears sheep, and produces timber.
The country's industry consists of rubber processing, palm oil processing, diamonds and timber.
Liberia exports rubber, timber, diamonds, iron and cacao.
Do you know any fun facts about Liberia?  Share them in the comments below!
This page was last modified on November 8, 2021. Suggest an edit