20 Marvellous Facts about Mayotte
Looking to boost your local knowledge of the big wide world and improve your chances of being crowned the next pub quiz champion? Take a look at these 20 interesting facts about Mayotte!
Geographical stats…
Mayotte is an archipelago and French overseas department in the Indian Ocean.
Mayotte became independent from Comoros in 1978, but elected to remain a French overseas territory.
It's nearest neighbours are Comoros, Tanzania and Kenya to the northwest, Somalia to the north, Seychelles to the northeast, Madagascar to the east and south and Mozambique to the west.
Fancy a spot of scuba diving or simply to chill out on the beach? Head for the coordinates of 12.8431° S, 45.1383° E to find yourself on the stunning shores of Mayotte!
The terrain is highly undulating on Grand-Terre, the largest of the 5 islands, with deep ravines and ancient volcanic peaks!
Of the 5 islands, only 3 are inhabited.
The total land area of Mayotte is 144 square miles (374 square kilometres)…
…that's the same size as North Somerset.
Mayotte's population was 270,372 in 2019…
…that's around 20,000 more than North Somerset!
The capital is Mamoudzou; it covers an area of 16 square miles (42 square kilometres) and according to the August 2017 census, had a population of 71,437.
Residents here enjoy a tropical climate with hot and humid weather, although it is susceptible to monsoons.
Mayotte has several endemic wildlife species including various geckos, frogs, birds and butterflies.
Adventurers will be pleased to know that the warm water surrounding this beautiful island group means there are lots of world class scuba diving opportunities around Mayotte.
Social intricacies
The official language of Mayotte is French, although several native languages are also spoken here.
As a French overseas territory, Euro is the official currency here.
The average life span here is 63 years.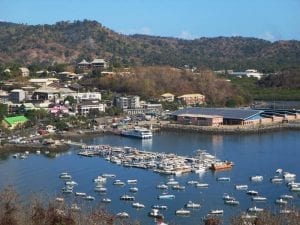 Industry insights…
Mayotte grows coffee, coconuts, cinnamon, vanilla and ylang-ylang (perfume essence); they also catch fish and rear livestock.
Its industry consists of construction and fish processing.
Mayotte exports coffee, cinnamon, vanilla, coconuts, copra and ylang-ylang.
Do you know any interesting or fun facts about Mayotte? Share them in the comments below!
This page was last modified on August 7, 2021. Suggest an edit