🇹🇹 20 Terrific Facts about Trinidad and Tobago
Looking to boost your knowledge of the world? Why not start with these 20 interesting facts about Trinidad and Tobago!
Trinidad and Tobago is a nation of two islands between the Caribbean Sea and North Atlantic Ocean.
Its nearest countries are Grenada and St. Vincent and the Grenadines to the north, Barbados to the northeast and Venezuela to the south and west.
This beautiful country has an area of 1,980 square miles (5,128 square kilometres), 94% of which is made up by Trinidad.
Trinidad and Tobago's population was 1.39 million in 2018.
The capital is called Port of Spain; it covers an area of just 5.2 square miles (13.4 square kilometres) and has a population of 37,074 (2011).
The terrain here is mostly flat plains, with some hills and low mountains.
To call your friends, make sure you use the international dialling code for Trinidad and Tobago which is +1868.
To set sail on an adventure of a lifetime, the coordinates of Trinidad and Tobago are 10.6667° N, 61.5617°
Trinidad and Tobago enjoys a tropical climate with a rainy season from June to December.
The name 'Tobago' allegedly comes from the islands resemblance to a tobacco pipe often used by locals!
Tobago boasts the oldest rainforest in the Western Hemisphere, which has been protected since 1776!
The average life expectancy here is 73.24 happy years (2017).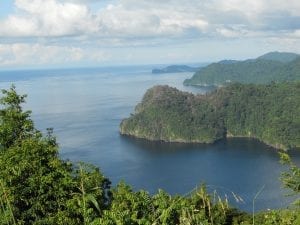 The official currency here is the Trinidad and Tobago Dollar.
Trinidad is not only home to the largest carnival in the Caribbean, but it's also where the 'limbo dance' originated from!
Despite its location, English is the official language of Trinidad and Tobago, although regional Creole dialects are also spoken.
The steel pan drum originates from Trinidad and Tobago and is the centre of much of its music.
Trinidad Island is home to Pitch Lake, the world's largest natural deposit of asphalt. It covers an incredible 99 acres!
Trinidad and Tobago grows cacao, rice, citrus fruits and sugarcane and rears poultry.
The country's industry consists of chemicals, petroleum, tourism and food processing.
Trinidad and Tobago exports chemicals, petroleum and petroleum products, steel products and fertiliser.
Do you know any fun facts about Trinidad and Tobago?  Share them in the comments below!
This page was last modified on August 7, 2021. Suggest an edit