12 Terrific Facts about Trinidad and Tobago
Trinidad and Tobago are twin islands with some incredible history between them! If you've never been before, here are some fun facts about Trinidad and Tobago to really get you interested in traveling there.
1. How much is Trinidad, and how much is Tobago?
Trinidad and Tobago, as you might imagine, is a twin nation – however, only 6% of the whole nation's space is taken up by Tobago! It's predominantly Trinidad, so it would seem.
2. It's likely smaller than you think.
The whole area of Trinidad and Tobago makes up around 5,128 square km, or 1,980 square miles, if you're working in imperial measures. Within this space, there's a population of almost 1.4 million people.
3. Tobago is named for a very specific and local reason.
Tobago is reportedly named after its shape – local people believe that it looks a bit like a smoking pipe which – funnily enough – they call a Tobago!
4. The national music is fantastic fun!
If you've ever had the joy of listening to steel drum music before, you'll be interested to know that the instrument actually has roots out here in Trinidad and Tobago. Come for a visit, and you'll hear that wonderful sound all over the islands.
5. Get your limbo on!
Trinidad is also the birthplace of the limbo – the dance and art of ducking below a pole positioned closer and closer to the ground! How low can you go?
6. What do people speak in Trinidad and Tobago?
The vast majority of people across both Trinidad and Tobago will speak English. Creole is also spoken here, too, which is common across many other Caribbean countries. In any case, you shouldn't have to do too much revision of languages when you visit.
7. The twin islands help to keep cars on the road.
Believe it or not, Trinidad and Tobago have a big export line in petroleum! They're also well-known for their chemical production, and even for exporting steel all over the world. That's a pretty interesting diversity!
8. This asphalt lake is truly massive!
Pitch Lake might sound like somewhere that you can go for a dip, but we'd probably advise against it. That's because it's actually a massive asphalt deposit – the biggest of its kind on the whole planet. It's almost 100 acres wide – you really cannot miss it.
9. Tobago is small, but home to ancient greenery.
Tobago, for all it may be fairly small, actually has an impressive and sizeable record to its name. It plays host to a rainforest that's been under close protection since the mid-18th century. This makes it the oldest known rainforest (at least protected) in the whole of the western world. Incredible!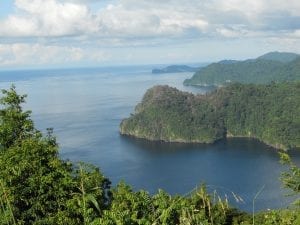 10. Live long and prosper out here!
The life expectancy in Trinidad and Tobago is pretty impressive – almost 74 years of age. Move out here and lead a long and happy life, it would seem!
11. The twin islands grow lots of lovely produce.
Trinidad and Tobago also grow all kinds of delicious natural resources. There's a huge trade in sugarcane and cacao out here, for example, and there's a big market in rice, too.
12. There's a Spanish connection!
Trinidad and Tobago's capital has a European name – the Port of Spain. It's absolutely tiny, in that it's only 13.4 square km, or 5.2 square miles, large! Fewer than 40,000 people live here based on the last census a decade ago.
FAQs about Trinidad and Tobago
Is Trinidad and Tobago rich or poor?
Trinidad and Tobago happen to make up one of the richest territories in the whole of the Caribbean. That's mainly thanks to its incredible petroleum and gas reserves!
Is living in Trinidad expensive?
Compared to living up in NYC, no! It's thought to only cost around $780 per month (but without rent) per month. That makes living out in T&T around 79% cheaper than living up in New York.
How long can I stay in Trinidad for?
If you want to visit Trinidad and Tobago for a long period, or intend to come and live here for an extended time, you'll need to seek an extension from the local immigration offices after 90 days.
Do you know any fun facts about Trinidad and Tobago?  Share them in the comments below!
This page was last modified on July 30, 2023. Suggest an edit