21 Interesting Facts about Kyrgyzstan
Looking to increase your knowledge of the countries of the world? Take a look at these 21 fun facts about Kyrgyzstan!
Geographical stats…
Kyrgyzstan is a mountainous and landlocked country in Central Asia.
It is bordered by Kazakhstan to the north, China to the east, Tajikistan to the southwest and Uzbekistan to the west.
To experience the stunning views and beautifully crisp air that the mountains have to offer, follow the coordinates of 42.8667° N, 74.6000° E for your very own Kyrgyzstani adventure!
Kyrgyzstan boasts incredible terrain consisting of the Tien Shan mountain range, with its peaks and associated valleys and basins covering the entire country.
The total land area of Kyrgyzstan is 77,201 square miles (199,951 square kilometers)…
…that's just over twice the size of Portugal.
Kyrgyzstan's population was 6.592 million in 2020…
…that's around half the population of Portugal!
Residents here are known as Kyrgyzstanis.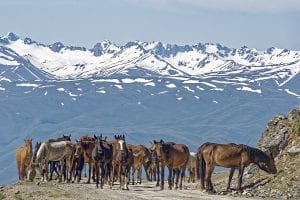 The capital is Bishkek; it covers an area of 49 square miles (127 square kilometers) and had a population of 976,734 in 2017.
Kyrgyzstanis enjoy varying climates dependent on location and altitude; it ranges from dry continental and polar high up in the mountains, to subtropical in the southwest valley and temperate in the northern foothills.
The Silk Road, a major trade route between China and Europe used to run through Kyrgyzstan.
Did you know that Kyrgyzstan boasts the largest walnut forests in the world?
Incredibly, the Burana Tower in northern Kyrgyzstan was built as a lookout tower in the 10th century and still stands today. Although it has reduced in height by about 20m thanks to an earthquake in the 15th century, it still stands at around 25m tall!
Social intricacies
The official languages of Kyrgyzstan are Kyrgyz and Russian.
Are you a fan of tea? Well you'll feel right at home in Kyrgyzstan as it frequently accompanies meals on a daily basis!
Kyrgyzstani Som is the official currency here.
Kyrgyzstanis live for an average of 71.6 years (2019).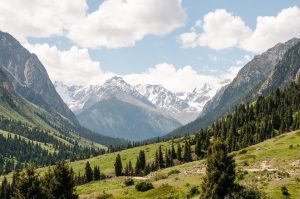 Industry insights…
Kyrgyzstan grows cotton, tobacco, vegetables, potatoes, fruits, berries and grapes; they also rear cattle, sheep and goats.
Its industry consists of small machinery, textiles, shoes, cement, food processing, refrigerators, gold, furniture, rare earth metals and electric motors.
The main exports include gold, wool, cotton, meat, garments, tobacco, uranium, mercury, machinery, shoes and electricity.
Do you know any fun facts about Kyrgyzstan?  Share them in the comments below!
This page was last modified on November 14, 2021. Suggest an edit