Portugal is a major tourist destination in Southern Europe.
It is bordered only by Spain to the north and east. It also has a coastline along the Gulf of Cadiz to the south and the Atlantic Ocean to the west.
The coordinates for Portugal are 38.7000° N, 9.8133° W.
The terrain here is mostly mountainous in the north, whilst the south features lovely rolling plains.
The total land area of Portugal is 35,655 square miles (92,345 square kilometres).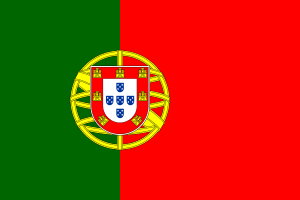 Portugal's population was 10.28 million in 2019.
The capital is Lisbon which covers an area of 32.7 square miles (84.8 square kilometres) and has a population of 504,718 (2016).
The average life span here is 81.13 years (2016)
Founded in 1128, Portugal is one of the oldest nations in Europe!
The Portuguese enjoy a maritime temperate climate, with the north generally cool and rainy whilst the south is warmer and drier.
A surfer's paradise, it is often said that Portugal boasts 364 days a year of surf!
The official language of Portugal is… Portuguese, of course!
Euro is the official currency here.
Apparently, the Portuguese eat more fish and shellfish per capita than any other nation!
And more than half of the world's cork is grown here!
One of the world's smallest bookshops is located in Lisbon – at a mere 3.8 square metres the shop owner often has to stand outside when customers come in! Despite its small stature this Tardis of a bookshop is said to boast around 4,000 books!
At an incredible 10.6 miles (17.2 km) long, the Vasco da Gama bridge in Lisbon is the longest bridge in Europe!
Portugal also boasts the first ever commercial wave farm, which uses the power of the Atlantic Ocean to harvest electricity!
Portugal grows potatoes, grains, olives and grapes, rears sheep and catches fish.
Its industry consists of tourism, wood pulp, paper, cork, metalworking, textiles and footwear.
Portugal also exports clothing and footwear, chemicals, machinery, cork, paper products and hides.
Do you have any interesting facts about Portugal that we've not mentioned?  Let us know in the comments section below!