21 Useful Facts about Uganda
Looking to boost your knowledge of the countries of Africa? Take a look at these 21 interesting facts about Uganda!
Geographical stats…
Uganda is a landlocked country in East Africa.
It is bordered by South Sudan to the north, Kenya to the east, Tanzania to the south, Rwanda to the southwest and Democratic Republic of the Congo to the west.
Whether you're looking to go on safari or simply sample the delights this wonderful country has to offer, head for the coordinates of 1.0667° N, 31.8833° E to explore Uganda for yourself.
Uganda mostly consists of plateau, with a rim of mountains.
The total land area of Uganda is 93,104 square miles (241,139 square kilometres)…
…that's roughly the same size as the UK.
Uganda's population was 42.72 million in 2018…
…that's slightly more than half the population of the UK!
That makes it the second largest landlocked country by population after Ethiopia!
Residents here are known as Ugandans
The capital is Kampala; it covers an area of 73 square miles (189 square kilometres) and had a population of 1,936,000 in 2015.
Ugandans enjoy a tropical climate with two dry seasons from December to February and June to August, with generally rainy weather in between.
Uganda is one of the few places on Earth where you can still find the endangered Mountain Gorilla. You'll also find elephants, monkeys, aardvarks, lions, bats, leopards, jackals, zebras, warthogs, hippopotamuses and giraffes, amongst many others!
Social intricacies
The official language of Uganda is English, although several local languages are also spoken here.
If you fancy purchasing some handcrafted wooden face masks, jewellery or even some African art, you'll need to exchange your spending money for Ugandan Shilling – the official currency here.
Ugandans live for an average of 62.52 years (2017).
Panfried grasshoppers are considered a delicacy in Uganda!
Women are the house builders of Uganda! It is common for women to build the walls of their traditional mud houses, with the men only building the roof!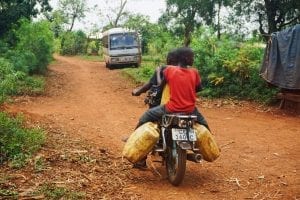 Industry insights…
Uganda grows coffee, tea, tobacco, potatoes, corn, millet and cotton; they also rear cattle and poultry and produce dairy products.
Its industry includes sugar, tobacco, brewing, cotton textiles and cement.
The main exports consist of fish and fish products, coffee, tea, gold and cotton.
Do you know any fun, strange or interesting facts about Uganda that we've missed?  Share them here in the comments section below!
This page was last modified on December 11, 2020. Suggest an edit