22 Breathtaking Facts about Bahrain
Looking to boost your knowledge of the Middle East and improve your chances of winning the next pub quiz? Check out these 22 interesting facts about Bahrain!
Geographical stats…
Consisting of 33 islands, Bahrain is an archipelago in the Persian Gulf.
Its nearest neighbors are Kuwait and Iraq to the northwest, Iran to the north, UAE and Qatar to the south east and Saudi Arabia to the south and west.
Want to fly yourself to Bahrain? The coordinates of 26.0275° N, 50.5500° E will get you there!
The terrain here is mostly low lying desert plain, rising gently to low central escarpment.
The total land area of Bahrain is just 277 square miles (717 square kilometres)…
…that's around one fifth of the size of Cornwall!
Bahrain's population was 1.6 million in 2019…
…almost triple the population of Cornwall, making it a very densely populated country!
Residents here are known as 'Bahrainis'.
Not only are there fresh water wells in Bahrain, but it has also been known for fresh water to bubble up in the middle of the salt water!
The capital is Manama; it covers an area of 11.6 square miles (30 square kilometres) and had a population of 411,000 in 2015.
Bahrainis enjoy an arid climate with mild winters and very hot, humid summers where the temperature can reach nearly 50°C!
The Bahrain World Trade Centre is the world's first skyscraper to include wind turbines in its design!
Social intricacies
The official language of Bahrain is Arabic, although English, Farsi and Urdu are also spoken here.
If you're visiting friends or family here, you'll need to exchange your money into Bahraini Dinar; the official currency here.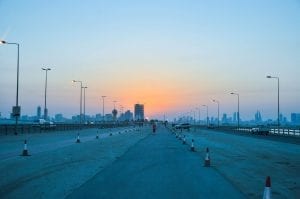 The average life span here is 74 years.
In 2006, Bahrain entered the Guinness Book of Records for the largest Mortar Board at an incredible 6x6m!
Bahrain has hosted a Formula One Grand Prix 15 times. In 2014 it was held at night under floodlights for the first time!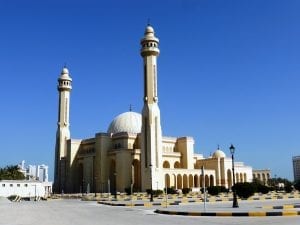 Industry insights…
Bahrain grows fruit and vegetables, rears poultry and catches shrimp.
Its industry consists of petroleum processing and refining, aluminium smelting, offshore banking, tourism and ship repairing.
Bahrain also exports petroleum and petroleum products, aluminium and textiles.
Do you know any interesting facts about Bahrain? Share them in the comments below!
This page was last modified on October 20, 2021. Suggest an edit