🇧🇦 22 Brilliant Facts about Bosnia and Herzegovina
Impress your friends with your knowledge of Europe by taking a look at these 22 fun facts about Bosnia and Herzegovina!
Geographical stats…
Bosnia and Herzegovina is a stunningly beautiful country in southeastern Europe.
Bosnia and Herzegovina gained independence from the former Yugoslavia in 1992.
It is bordered by Croatia to the southwest, west and north, Serbia to the east and Montenegro to the southeast.
To head for this beautiful country, follow the coordinates 44.0000° N, 18.0000° E.
The terrain here is dominated by mountains and valleys. Glorious!
Bosnia and Herzegovina has one of the shortest coastlines in Europe at a mere 12.4 miles!
The total land area of Bosnia and Herzegovina is 19,741 square miles (51,129 square kilometers)…
…that's slightly smaller than Scotland.
Bosnia and Herzegovina's population was 3.281 in 2020…
…that's around 3/4 the population of Scotland.
Residents here are known as either Bosnians or Herzegovinians, depending on which part of the country they are from.
The capital is Sarajevo; it covers an area of 55 square miles (142 square kilometers) and had a population of 318,000 in 2015.
Both Bosnians and Herzegovinians enjoy a mediterranean climate with hot summers and cold winters.
Bosnia and Herzegovina is home to the Perucica Rainforest, the largest rainforest in Europe!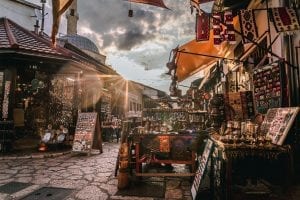 Social intricacies
The official languages of Bosnia and Herzegovina are Croatian, Serbian and Bosnian.
The official currency here is Bosnia and Herzegovina Convertible Mark. That's a pretty long name isn't it!
Incredibly, the Convertible Mark isn't available for exchange outside of Bosnia and Herzegovina, so you'll need to exchange your spending money once you're there!
The average life span here is 77.40 years (2019).
Bosnia is believed to have been inhabited since at least the Neolithic Age!
Industry insights…
Bosnia and Herzegovina grows wheat, corn, fruits and vegetables; they also rear livestock and produce wood products.
Its industry consists of steel, coal, zinc, lead, iron ore, manganese, bauxite, clothing and vehicle assembly.
This beautiful country exports metals, clothing and wood products.
Do you know any fun facts about Bosnia and Herzegovina? Share them in the comments below!
This page was last modified on November 8, 2021. Suggest an edit