🇨🇨 22 Captivating Facts about Cocos Keeling Islands
Want to impress your friends with your extensive knowledge of the world? Check out these 22 fun facts about Cocos Keeling Islands!
Geographical stats…
Cocos Islands is an archipelago and a territory of Australia, located in the Indian Ocean.
The archipelago consists of 27 islands, although only 2 are inhabited.
Its nearest neighbors are Maldives and Sri Lanka to the northwest, Singapore to the northeast, Christmas Island to the east and Australia to the southeast.
If you fancy snorkelling around these beautiful islands to explore the coral and fish that live in these crystal clear waters, follow the coordinates of 12.1167° S, 96.9000°
The islands are all fairly flat and made up of low-lying coral.
The total land area of Cocos Islands is 5.4 square miles (14 square kilometers)…
…that's around 1/3 the size of Oxford.
Cocos Islands' population was just 544 in 2016…
…that's around 1/250 of the population of Oxford!
In case you were wondering, residents here are known as Cocos Islanders.
Unusually, the capital here is an island rather than a town or city. West Island covers an area of 2.4 square miles (6.2 square kilometers) and had a population of around 120 in 2014.
West Island also happens to be the largest of the 27 islands, with 6 islands measuring less than 0.01 square miles!
Cocos Islanders enjoy a tropical climate with high humidity and high temperatures, which are moderated by trade winds from May to September.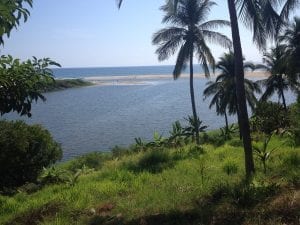 Social intricacies
The official languages of Cocos Islands are Malay and English.
Popping by after a trip around Australia? You can use your left over money as the Australian Dollar is the official currency here, too.
Although the islands were discovered by Captain William Keeling in 1609, they weren't inhabited until the 19th century!
Unsurprisingly, most dishes of the Cocos Islands feature rice and fish, which is often fried or curried. Delicious!
As an Australian territory, Cocos Islands has no military, although it does have a 5 person strong police force!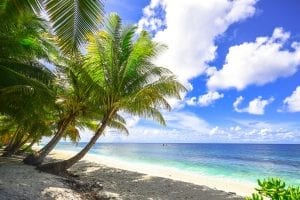 Industry insights…
Cocos Islands grows vegetables, coconuts, bananas and pawpaws (papaya).
Its industry consists of tourism and copra (dried coconut kernels) products.
This beautiful country exports copra.
Do you know any fun facts about Cocos Keeling Islands?  Share them in the comments below!
This page was last modified on November 13, 2021. Suggest an edit