19 Ace Facts about Austria
Looking to boost your knowledge of Europe and increase your chances of being crowned the next quiz champion? Why not start with these fun facts about Austria!
1. Austria has plenty of neighbors.
Austria is a beautiful landlocked country in Central Europe.
It shares a border with Germany to the north west, Czech Republic to the north, Slovakia to the north east, Hungary to the south east, Slovenia to the south, Italy to the south west and Switzerland and Liechtenstein to the west.
2. Austria is impressively big.
This beautiful country has an area of 32,378 square miles (square kilometers).
3. It has only a fraction of the UK's total population!
Austria's population was 8.917 million in 2020.
4. What's the capital of Austria?
The capital city is called Vienna; it covers an area of 160.1 square miles (414.6 square kilometers) and has a population of 1.897 million (2019).
5. The landscape in Austria is fairly up and down.
The terrain here is mountainous in the south and west, with lowlands in the north and east. In fact, the Austrian Alps cover 62% of Austria's total land area.
6. How can you find Austria on the compass?
Whether you're looking to ski, hike or cycle, the coordinates for Austria are 48.2000° N, 16.3500°
7. We owe a lot of clothes-making to Austria.
The sewing machine was invented by an Austrian! Josef Madersperger created the contraption in 1818!
8. Austrian women tend to be very fit… but the men?
The health conscious amongst you may be interested to note that Austria has the lowest rate of overweight females in the EU, and the highest rate of overweight males!
9. Austria is a winter sports paradise.
If you're an adrenaline junkie, head to Austria in the winter to ski or snowboard on some of the best powder around and experience the 'apres ski' scene. When all is thawed, head back in the summer to do some off-road mountain biking or some serious hiking! The scenery is truly magical!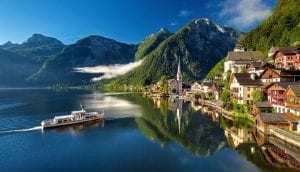 10. There's a long-standing zoo here.
The oldest zoological garden in the world, Tiergarten Schonbrunn, which was founded in 1752, is in Vienna!
11. There are plenty of politeness rules in Austria.
If eating or drinking amongst Austrians, make sure you say 'Guten appetit!' and look the other person in the eye whilst clinking glasses – if you don't, it's thought to be rude and bring 7 years of bad luck to your sex life! You have been warned!
12. Austrians adore Christmas.
Vienna has also been host to a Christmas market since 1772! We implore you to go and sample some of the Christmas punch, roasted chestnuts and Apfelstrudel whilst purchasing some handmade goodies!
13. Austria's climate isn't too harsh.
Austria enjoys a temperate, continental climate with frequent rain and snow during the cold winters, and moderate summers with occasional showers.
14. You'll live a long, healthy life here.
The average life expectancy here is 81.64 fun filled years (2017).
15. Change up the pennies!
Like most other countries in mainland Europe, the Euro is the currency of Austria.
16. 'Austrian' isn't a language.
German is the official language of Austria.
17. A lot of famous people hail from Austria!
Famous Austrians include Sigmund Freud, the psychiatrist, Wolfgang Mozart, the composer, Ferdinand Porsche, the car maker and Arnold Schwarzenegger!
18. Austria grows and exports lots of things.
They grow potatoes, sugar beets and grains and produce wine, dairy products and lumber.
The country's industry consists of machinery, construction, vehicles and parts and food.
Austria exports motor vehicles and parts, machinery and equipment, paper, metal goods, iron ore, oil, chemicals and timber.
19. It's super easy to call Austria!
Want to call family or friends in Austria?  You'll need to use the international dialling code +43.
FAQs about Austria
What food is Austria famous for?
Austrian cuisine is very varied, though it is largely known for apple strudel, or apfelstrudl, and the tasty meat dish, tafelspitz.
What's unique about Austria?
Austria is amazingly mountainous, almost two thirds of the country is uphill - making it perfect for skiing.
Is Austria a religious country?
Most people in Austria identify as religious, with almost three-quarters of the population identifying as Catholic at the turn of the 00s.
Do you know any fun facts about Austria?  Share them in the comments below!
This page was last modified on August 3, 2023. Suggest an edit