Home of the beloved writers Pablo Neruda and Gabriela Mistral, Chile is known to its inhabitants as "pais del poetas," or country of poets. Aside from its contribution to literature, the country is also frequented for its remote getaways, memorable landscapes, food and nightlife.
Boost your local knowledge of South America with these 23 interesting facts about Chile.
Geographical stats…
Chile is a long and narrow country on the western edge of South America.
This unusually shaped country has an area of 291,930 square miles (756,096 square kilometres).
Chile is the longest country in the world at an incredible 2,647 miles (4,620 kilometres) long!
The world's southernmost village, Puerto Williams is in Chile!
Chile's population was 18.73 million in 2018.
Should you wish to explore this unique country (and we recommend you do!) the coordinates to get there are 33.4333° S, 70.6667°
Chile and Ecuador are the only countries in South America that don't border Brazil!
The capital city is called Santiago; it covers an area of 247.5 square miles (641 square kilometres) and has a population of 6.3 million (2012).
The terrain here is a mix of low coastal mountains, a central valley and the Andes Mountains in the east.
Mountains cover around 80% of Chile's landscape; The Andes mountain range extends the entire length of this amazing country!
The Chilean Atacama Desert is the driest desert in the world – parts of which have never seen a drop of rain since records began!
Chile houses two of the largest copper mines in the world! Chuquicamata and Escondida.
Residents here enjoy an overall temperate climate with three distinct climates due to the shape of the country; there's arid desert in the north, a Mediterranean climate in the central region and it's cool and damp in the south.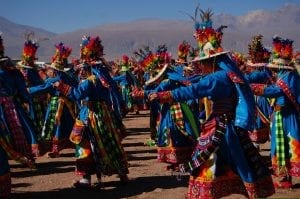 Social intricacies…
Chile is one of only a few countries that have a government supported UFO research organisation.
The average life expectancy here is 79.91 years (2017).
Divorce has only been legal in Chile since 2005 and it has one of the lowest divorce rates in the world!
Should you wish to sip a cold 'Cerveza' (Spanish for 'beer') upon these glorious shores, remember to pack a few Chilean Peso's!
Spanish is the official language of Chile.
Industry insights…
The country's industry consists of copper, food products, fish processing, cement, transport equipment, iron and steel.
Want to call your family or friends in Chile?  You'll need to dial the international code +56.
Do you have any interesting or fun facts about Chile that we've missed?  Share them with us in the comments section below!