23 Positive Facts about Nigeria
Think you know all there is to know about Nigeria? Take a look at these 23 interesting facts about Nigeria and test your knowledge!
Geographical stats…
Nigeria is a beautiful and culturally rich country in West Africa.
It is bordered by Niger to the north, Chad to the northeast, Cameroon to the east and Benin to the west. It also has a coastline along the Gulf of Guinea to the south.
If you're looking for a wonderful safari adventure, head for the coordinates of 8.0000° N, 10.0000° E to find yourself in Nigeria!
The terrain here features vast southern lowlands, whilst the southeast boasts beautiful mountains, the north is covered mostly by plains and the centre of this wonderful country comprises hills and plateaus.
The total land area of Nigeria is 356,669 square miles (923,768 square kilometres)…
…that's more than three times the size of Italy!
Nigeria's population was 195.9 million in 2018…
…that's also around three times the population of Italy!
That makes it the most populous country in Africa!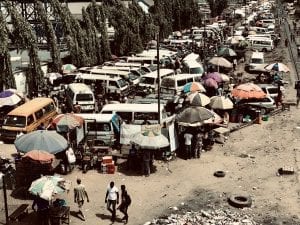 Residents here are known as Nigerians.
The capital is Abuja; it covers an area of 275 square miles (713 square kilometres) and had a population of 3,277,740 in 2020.
The climate of Nigeria varies throughout this vast country, with the south experiencing an equatorial climate, moving to tropical in the centre and arid in the north.
The Third Mainland Bridge, connecting Lagos to the mainland, is one of the longest bridges in Africa!
There are many species of wildlife endemic to Nigeria, including the Sclater's Guenon (a very cute monkey) and the Ibadan Marimba (a beautiful small black and red bird).
Social intricacies
The official language of Nigeria is English, although there are an amazing 520 languages that are spoken here, and 7 further languages which are no longer used!
If you'd like to bring back a traditional weaved Nigerian basket, make sure you exchange your spending money into Nigerian Naira, the official currency here.
Nigerians live for an average of 53.95 years (2017).
Nigeria is home to the 2nd largest movie industry in the world after 'Bollywood' in India! Dubbed 'Nollywood', Nigeria actually produces more films than Hollywood, USA!
The name 'Nigeria' comes from the Niger River which runs through the south and west of the country.
Amazingly, as a result of recent archaeological discoveries and research, it is thought that people have been living in Nigeria since 11,000BC and possibly before!
Industry insights…
Nigeria grows peanuts, corn, palm oil and cacao; they also rear cattle, catch fish and produce timber.
Its industry consists of crude oil, coal, tin, palm oil, peanuts, rubber, cotton, wood, textiles and columbite.
Nigeria exports petroleum, petroleum products, rubber and cacao.
Do you have any interesting or fun facts about Nigeria that we've missed? Share them here in the comments section below!