24 Lovely Facts about Lesotho
Looking to boost your knowledge of the world? Why not start with these 24 culturally inspiring and interesting facts about Lesotho!
Originally named Basutoland, this country was renamed the Kingdom of Lesotho upon independence from the UK in 1966.
A small and beautiful mountainous country, Lesotho is an enclaved landlocked country completely surrounded by South Africa.
Just so you know, Lesotho is pronounced le-soo-too.
It has an approximate area of 11,583 square miles (30,000 square kilometres).
The coordinates for Lesotho are 29.4667° S, 27.9333°
Lesotho's population was 2.108 million in 2018.
Approximately three-fourths of its population live in rural areas and engage in animal herding and subsistence agriculture.
Maseru is the capital and covers an area of 53.3 square miles (138 square kilometres) and had a population of 330,760 in 2016.
Lesotho has a terrain that consists of highlands with plateaux, hills and mountains. Approximately more than 80% of the country is 1,800 meters above sea level.
The temperature here in the Summer is hot (perfect) and the winters can be cold, with snow in the mountains (we're used to that here in the UK). Usually, you can expect the most rainfall between October and April.
This country is home to three rivers; the Orange River, the Tugela River and the Caledon River – they all have their source in the Lesotho mountains.
Did you know that the inhabitants of Lesotho are called the Basotho? The singular term is Mosotho, not, as you may have thought, a Lesothos!
The average life expectancy here is 52.95 years (2017).
The currency of this South African country is the Lesotho Loti.
The official languages here are Southern Sotho (a Bantu language, also known as Sesotho) and English, so you shouldn't need to worry about learning a new language!
Those of you who have a love of all things crafty will be interested to know that rugs (wool and mohair), tapestries, pottery, beadwork and basketry feature a lot in Lesotho's culture, as do the creation of traditional conical straw hats and beautifully decorated Basotho blankets (known as kobo) which are worn by the locals.
You can plan your trip around the the Morija Arts and Cultural Festival (held in October as a celebration of Lesotho's diverse culture) if you want to experience all that is crafty that this country has to offer!
Lesotho is a great place to go if your love an adventure; it boasts 1000m high 'lowlands' where you can participate in a spot of craft shopping and sightseeing or if you prefer, you can explore and walk around the beautiful and historic highlands to the southern, central and northeastern parts of the country where you'll see beautiful streams passing through an 'ancient dinosaur playground' – we love the sound of that!
If you're interested in nature and conservation you must visit Sehlabathebe, Lesotho's National Park, and Bo
kong Nature Reserve, Tsehlanyane Nature Reserve and Liphofung Cave Heritage Site.
Lesotho is dependent upon a small economy which consists of textile manufacturing, agriculture, remittances and regional customs revenue.
Its most important natural resource is water! Known as 'white gold', water generates important revenue for the economy.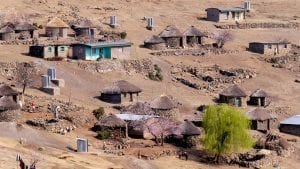 In 2004 the Lesotho Highlands Water Project opened to supply water to South Africa.
Apples, apricots, peaches, pears and quinces grow here due to the climate – think of all the jam you could make!
Industries include construction, clothing, textiles, handicrafts, food processing and beverages (beer is brewed locally in Lesotho).
Want to call your friends in Lesotho?  You'll need to use the international dialling code +266.
Do you know any interesting or fun facts about Lesotho that we've missed? Share them here in the comments section below!
This page was last modified on December 12, 2020. Suggest an edit