Looking to boost your knowledge of the countries of Europe? Take a look at these 24 interesting facts about Estonia!
Geographical stats…
Despite including around 1,500 islands, Estonia is a small country in Northern Europe.
It is bordered by Russia to the east and Latvia to the south.
To explore this beautiful country and all that it has to offer, follow the coordinates of 59.0000° N, 26.0000° E.
The terrain here ranges throughout the country, with hills in the south, flat plains in the north and marshy lowlands in the centre; forests cover around half of this incredible country.
Estonia boasts more than 1,000 lakes and 7,000 rivers!
The total land area of Estonia is 17,462 square miles (45,227 square kilometres)…
…that's just over twice the size of Wales.
Estonia's population was 1.329 million in 2020…
…that's less than half the population of Wales!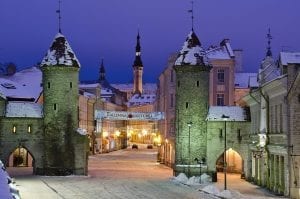 That makes it one of the least densely populated countries in Europe!
Residents here are known as Estonians.
The capital is Tallinn; it covers an area of 61 square miles (159 square kilometres) and had a population of 391,000 in 2015.
Estonians enjoy a maritime climate with wet and moderate winters, followed by cool summers.
Social intricacies
Estonia gained independence from the former Soviet Union in 1991, although it did experience independence on and off between 1918 and 1940.
The official language of Estonia is… Estonian!
If you'd like to sip some local beer or purchase a few local handicrafts, you'll need to exchange your spending money for Euros.  I'm sure many of us have a few of those lying around the house!
Estonians live for an average of 77.64 years (2017).
In 2013 Tallinn became the first city in the EU to offer free public transport to residents of the city!
Estonia is the only country in the world to offer online voting for political elections!
Skype, the internet-based video calling software, was actually created by three Estonians, Ahti Heinla, Priit Kasesalu, and Jaan Tallinn!
They're masters at Wife Carrying! Estonians won every Wife Carrying World Championship from 1998 to 2008 – the unusual sport where a man must carry his female partner through an obstacle course in the shortest possible time!
Industry insights…
Estonia grows potatoes and vegetables; they also rear cattle, catch fish and produce dairy products.
Its industry includes engineering, wood and wood products, electronics and textiles.
The main exports consist of wood and paper, machinery and equipment, furniture, food products and textiles.
Do you know any interesting or fun facts about Estonia that we've missed?  Share them with us in the comments section below!