Impress your friends and family with your vast local knowledge of Asia with these 24 interesting facts about Singapore!
Geographical stats…
Singapore is an island city-state in Asia.
Despite being a city-state, Singapore also includes more than 60 islets, although most of these are uninhabited.
To explore this wonderful country and all that it has to offer, head for the coordinates of 1.3000° N, 103.8000° E.
The terrain here is low lying and gently undulating.
The total land area of Singapore is 278 square miles (719 square kilometres)…
…that's around the same size as Anglesey.
Singapore's population was 5,639 million in 2018…
…that's more than 80 times the population of Anglesey!
That also makes Singapore one of the most densely populated countries in the world with more than 20,000 people per square mile!
Residents here are known as Singaporeans.
As a city-state, Singapore is both the country and the capital.
Singaporeans enjoy a tropical climate with little temperature variation and two monsoon seasons; the northeastern monsoon season is from December to March, whilst the southwestern monsoon season runs from June to September.
The lowest temperature ever recorded in Singapore was 19.4°C in 1934!
Singapore boasts the world's first nocturnal zoo, where it is possible to go on night safari to fully immerse yourself in the world of nocturnal animals!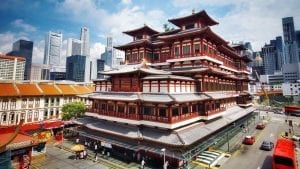 The Fountain of Wealth in Singapore is the largest fountain in the world and reportedly cost US$6 million!
You are not allowed to build a structure higher than 280m in Singapore due to the low-flying air traffic.
Social intricacies
The official languages of Singapore are English, Mandarin, Malay and Tamil.
Singaporeans live for an average of 82.9 years (2017).
Not sure what the words of the national anthem are? They can be found on the back of each S$1000 note!
Industry insights…
Its industry consists of chemicals, electronics, oil drilling equipment, petroleum refining and financial services.
Singapore exports machinery and equipment, chemicals, consumer goods and mineral fuels.
Do you know any fun, strange or interesting facts about Singapore that we've missed?  Share them here in the comments section below!