49 Superior Facts about Sloths
Have you been lazy for the past few months? Not to worry! The sloths have been lazy their entire lives! Comforting, don't you think! These tree-dwelling mammals are famous for their slowness of movement. How slow you might ask? They move through the treetops at a rate of about 40 yards per day. Sloths live in the tropical forests of South and Central America, where they can be seen high in the trees, enjoying the sun, resting, or feeding on leaves. Slow and steady, when you think about it, it's a great way to go through life.
Let's follow their lead and go through these interesting facts about sloths, with no unnecessary hurry!
There are 2 different types of sloths, two-toed and three-toed, and 6 species of sloths.
All sloths have three toes on their back feet, but two-toed sloths only have two toes on their front feet.
Two-toed sloths are slightly bigger than their three-toed pals.
Sloths have an extremely low metabolism and spend 15 to 20 hours per day sleeping.
Sloths are mostly nocturnal, sleeping during the daytime and waking up at night to eat.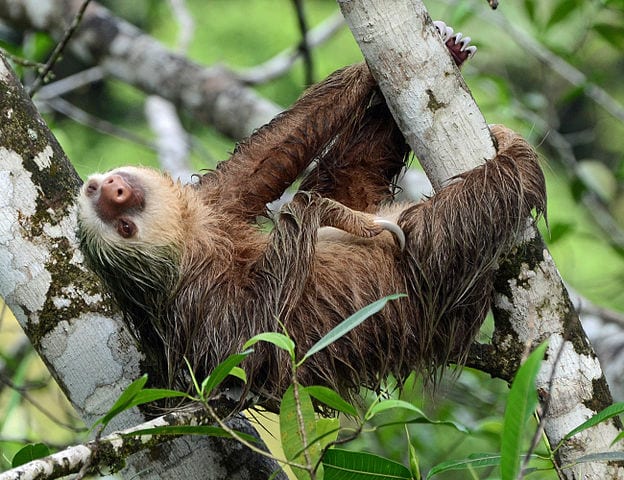 They're excellent swimmers and occasionally drop from their treetop perches into the water for a splash.
Sloths are an essential part of tropical rain forest ecosystems.
Among the most familiar mid-sized sloths in Central and South American rain forests is the brown-throated sloth.
The health of sloth populations is entirely dependent on the health of tropical rain forests.
Sloths will lose their shelter and food source, without an abundance of trees.
Sloths come down from the canopy to the forest floor, once a week to relieve themselves.
World Wide Fund for Nature (WWF) works with communities, governments, and companies to encourage sustainable forestry.
Since 2003, WWF has been working with the Brazilian government on the Amazon Region Protected Areas initiative (ARPA) to protect the rain forest.
The 20th of October is International Sloth Day.
Sloths are the stars of memes and viral videos, always making us laugh.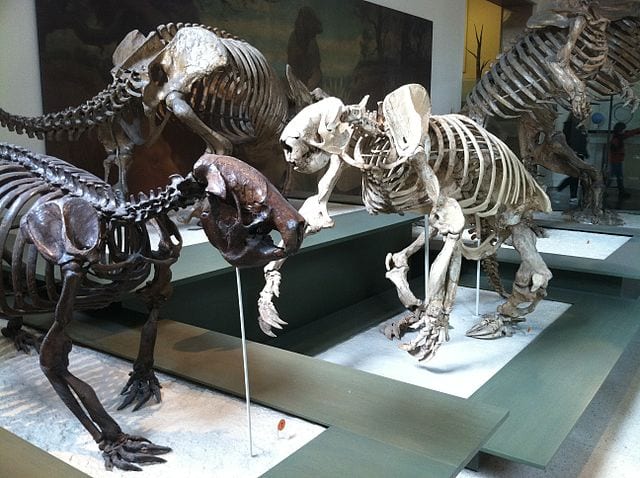 Millions of years ago, ground sloths the size of elephants roamed the planet. Some were nearly 20 feet long with enormous claws for pulling tree branches.
Today's sloths are a little less scary. They grow up to 2.5 feet and weigh between 9 and 17 pounds.
Sloths have rough, brown fur, long extremities, and curved claws for hanging tightly onto tree branches which helped them in the adaptation to upside-down tree living.
Sloths are mammals, but they aren't primates or marsupials, even though the groups do share some similarities.
Sloths belong to the superorder Xenarthra and the order Pilosa, with a family tree that includes anteaters and armadillos.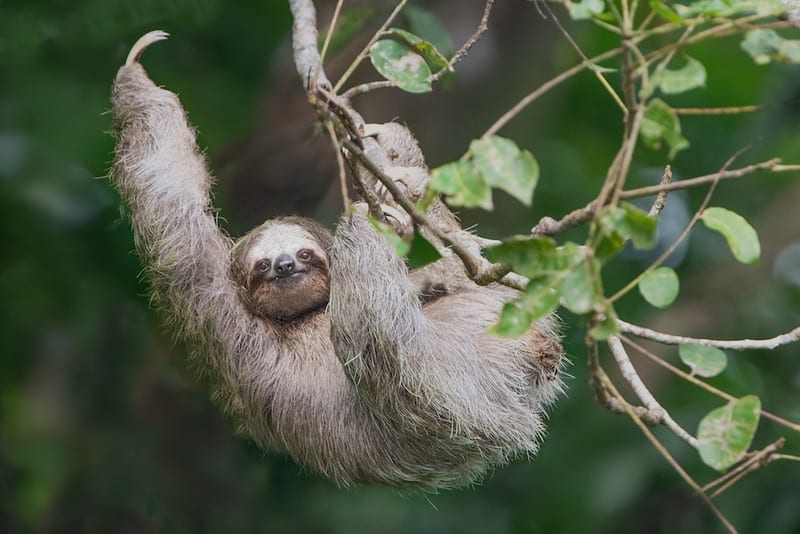 Sloths have leafy, low-calorie diets and very slow metabolisms to match.
Their metabolic rate is only about 40-45% of what would be typical for their body weight.
Because of this specialized metabolism, sloths need to be economical with their energy use.
The pygmy three-toed sloth is found only on a small island off the coast of Panama where it is critically endangered.
The maned three-toed sloths are considered vulnerable.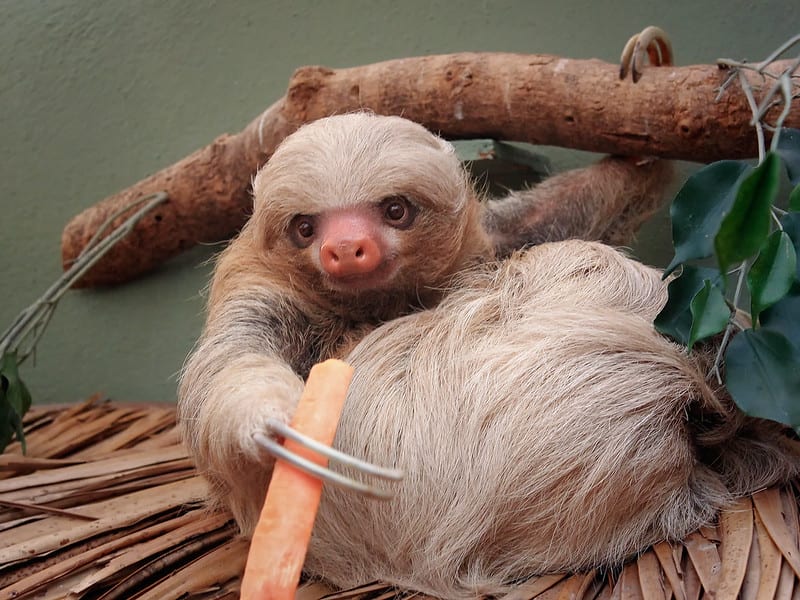 The southern two-toed sloths are considered as least concern by the International Union for Conservation of Nature (IUCN).
You're unlikely to cross paths with a sloth in the wild because they rarely leave their treetop hideouts.
Sloths typically rely on their camouflage to protect themselves from predators.
When sloths feel threatened, they can use their claws and teeth to defend themselves.
Despite their slow movements, sloths are surprisingly strong.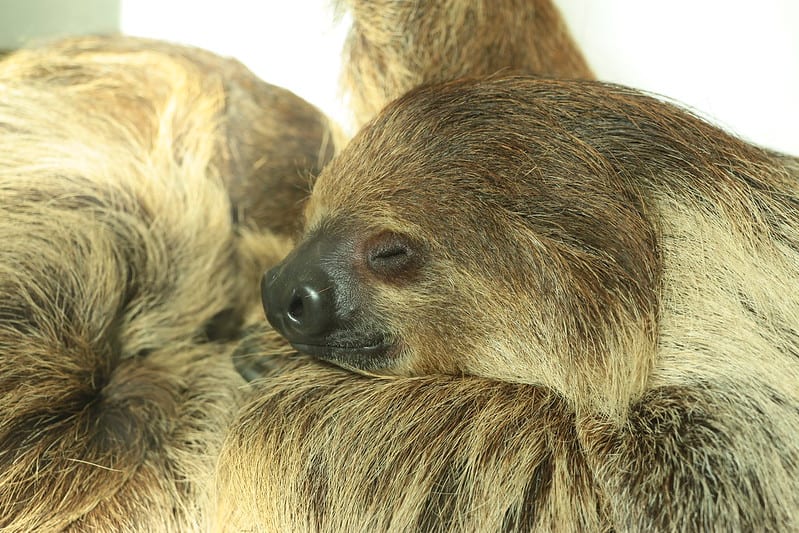 Each strand of a sloth's rough fur has grooves that run from top to bottom where two types of blue-green algae grow.
The green colour of the algae helps sloths blend in, but it also invites ticks, mites, beetles, moths, and other creepy crawlies to the party.
The algae ecosystem developing on the sloths is so distinctive that some species, like the sloth moth, live exclusively on the sloth's fur!
Jaguars and eagles are common predators of sloths.
The three-toed sloths have short, stubby tails.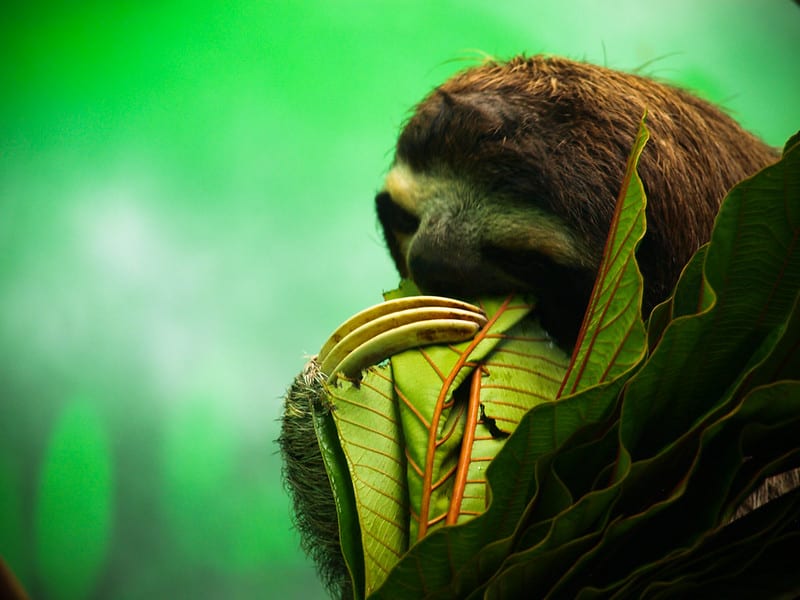 Sloths eat leaves, fruit, and some select fresh green shoots.
Sloths are mostly herbivorous, but occasionally they may snack on a larval insect or other passive, protein-packed snack like a bird egg.
To get additional water from their food sloths slurp dew drops off of leaves and fruits.
The sloth's teeth grow continuously throughout its life. As sloths chew on plants, their teeth get worn down, which prevents them from getting too long.
All sloths are built for life in the forest canopies.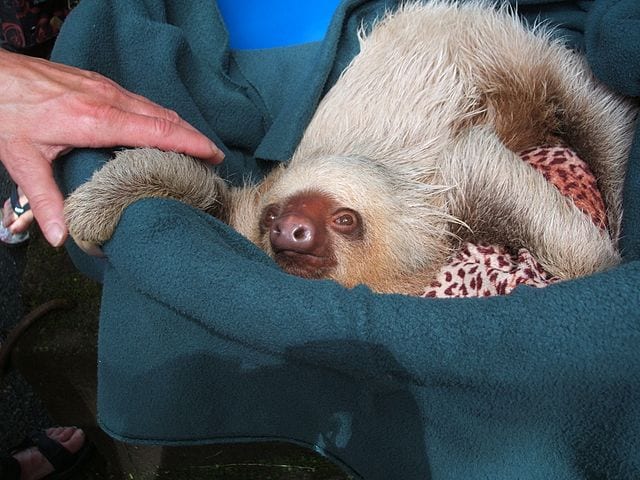 Sloths spend nearly their entire life aloft, hanging from branches.
It's not uncommon for dead sloths to retain their grip and remain suspended from a branch.
Sloths sleep, eat, mate, and even give birth upside down!
Three-toed sloth babies are often seen clinging to their mothers.
Sloth babies travel by hanging on to their mothers for the first nine months of their lives.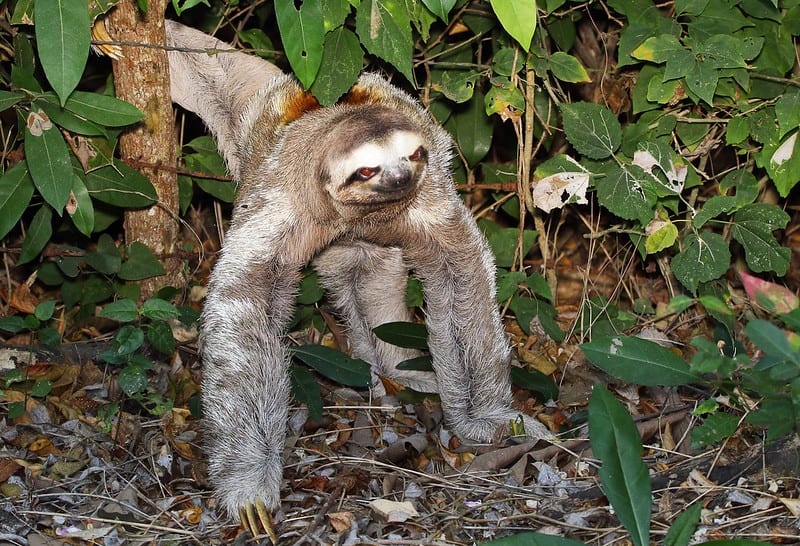 On land, sloths' weak rear legs provide no power and their long claws are just an interference.
To pull themselves along, sloths dig into the earth with their front claws and use their strong front legs, dragging their bellies across the ground.
Three-toed sloth has an extra neck vertebra that allows it to turn its head some 270 degrees. Impressive!
The three-toed sloth releases a long, high-pitched call that sounds like "ahh-eeee." So, you'd better be prepared to cover your ears!
Do you have any interesting or fun facts about sloths that we've missed? Share them here in the comments section below!
This page was last modified on January 20, 2021. Suggest an edit