15 Priceless Facts about Elvis Presley
Uh-huh-huh! Elvis Presley – the King of Rock n' Roll – was nothing short of a musical and cultural phenomenon. To this day, he's still one of the most-impersonated stars on the planet, and his legacy lasts as long as his incredible chart-breaking records. Let's look at some fun facts about Elvis Presley if you're feeling lonesome tonight!
1. Elvis was a Mississippi native.
Elvis Presley was born in Tupelo, Mississippi, US, on January 8th, 1935.
2. He fathered a daughter.
Elvis had one daughter. He fathered Lisa Marie Presley with his wife, Pricilla Presley. Lisa Marie went on to marry singer Michael Jackson and Hollywood star Nicolas Cage – at different times, of course!
3. Elvis spent time in service.
Elvis Presley was in the army for four years. He was an army reservist and spent two years in active service.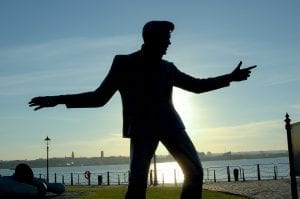 4. Where it all started!
Presley got his first guitar in 1946 on January 8th, on his 11th birthday.
5. He started out as a delivery driver.
Despite his undeniable talent, Elvis Presley was not always a musician! In fact, Elvis once drove a delivery truck for Crown Electrics!
6. He never played a single stage outside of North America.
Despite his worldwide success, Elvis only left the USA three times to perform his music. He went to Vancouver, Ottawa and Toronto in Canada. He also sang on tour with the army and whilst aboard the USS Randall.
7. Stamp collectors rejoice!
Elvis featured twice on US stamps. To appear once is an honor; to appear twice is almost unheard of and during his lifetime! He remains the only musical artist to have that acclaim to this day! His image was featured in 1993 and 2015 – and the 1993 commemorative stamp became the most popular stamp of all time!
8. Elvis had lots of nicknames.
He was not always known as Elvis Presley. In fact, he had three popular nicknames: 'The King', 'The King of Rock n' Roll', and 'The Pelvis'. The latter is related to the way he notoriously swayed his pelvis whilst performing on stage! The move was thought to be very provocative at the time – although his fans loved it, and it eventually became his signature move.
9. Graceland was an iconic purchase.
Elvis bought a mansion called 'Graceland' in Memphis in 1957 at the cost of $102,000. To this day, it's a huge pilgrimage site for fans of the King.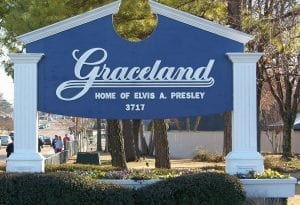 10. Elvis was a big fan of sports.
Elvis did not spend all of his time practicing music. In fact, he enjoyed multiple hobbies, including Go-karting, football, numerology and was an expert at karate. He was even ranked as a black belt.
11. The King's got European roots.
Even though we know him as being an American icon, Elvis has ancestral roots in Scotland, Ireland, France and Germany!
12. He was a striking figure.
Elvis was 1.82 meters tall and weighed only 77kg at his fittest. His chest measured 40 inches, his waist 32 inches and his biceps 14 inches! He dyed his brown hair black and had vivid blue eyes.
13. Elvis live was a big deal.
In 1973, Elvis participated in a concert that was broadcast live – it was his first-ever concert of its kind. The BBC refused to purchase viewing rights, as they didn't think it would be popular, which turned out to be a big mistake on their part!
14. The King loved his cars.
Elvis Presley enjoyed driving and collected some beautiful cars. Amongst them were a Pink Cadillac, a BMW 507, a Rolls Royce, a Mercedes, a Ford Thunderbird, a Lincoln Continental, and a Ferrari!
15. Any guesses to his favorite color…?
Remarkably, the adjective 'blue' appears 15 times in the titles of different Elvis Presley songs, making it the word that was most commonly used in his song titles.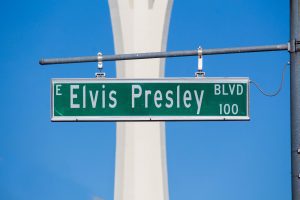 FAQs about Elvis Presley
How successful was Elvis Presley as an entertainer?
Elvis sold over one billion records! He produced 150 albums and claimed platinum and gold records. He had 114 top hits that charted, he starred in two documentaries and 31 films and won 3 Grammy awards - not bad at all, considering he had no musical training.
Was Elvis a millionaire?
Yes, Elvis was a multi-millionaire and had a net worth of $300 million!
When did Elvis die?
Elvis died at his home Graceland in 1977. The noted cause of his death was cardiac arrest caused by an overdose of medicinal drugs. He was 42.
Do you know any fun facts about Elvis Presley?  Share them here in the comments section below!
This page was last modified on July 27, 2023. Suggest an edit