12 Amazing Facts about The Amalfi Coast
Tourists from all over the world travel to Italy specifically to visit the Amalfi Coast. Although many travel to relish the wide variety of treasures the coast has to offer, few people know about its glorious history.
Here's a few interesting facts about the Amalfi Coast so that the next time you visit this beautiful land, you can truly appreciate its beauty.
The lemons are one of the most distinguishing features of the Amalfi, as the production is abundant along the coast. Called the Stusato d' Amalfi, they are massive and aromatic fruits which are vital to prevent seasickness for sailors taking long trips. The whole lemon can be eaten!
Named the Capuchin Convent, the monastery – turned hotel is perched upon one of the cliffs of Amalfi. It is believed that monks that resided there added warm milk to their coffee, which created what we know as Cappuccino.
Ceramics is one of the most ancient forms of art, and the Amalfi coast was popular for its major centres in the production of ceramics.
There are numerous churches located throughout Amalfi, with one of the most noticeable and enormous one located in the centre of the city. Many of the churches that were built on cliff sides have now been converted to shops and hotels. To show off their status, most nobles families built a church of their own in the early history of Amalfi.
The ancient Romans and Greeks built defensive walls around the city of Sorento. Over hundreds of years these walls became taller and taller creating spectacular views towards the picturesque island of Capri.
Called the "bambagina", they are known for making thick hand – made paper. In fact, the craft of papermaking was introduced to Europe through Amalfi.
If you keep a lookout, you can spot several locations in the city with miniature figurines
The roads that were built to the towns of Amalfi Coast took 150 years to build and is estimated to be around 750 years old!
In the recent popular film 'Wonder Woman', a fine garden of the Mediterranean, located in the Amalfi Coast, was featured.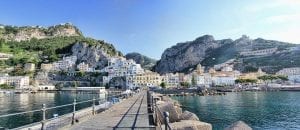 It is one of the most popular honeymoon spots for Hollywood couples. Some high profile people that have spent an evening or two there include Kim Kardashian, Mark Zuckerburg and Jamie Oliver.
Tuna that are caught in the Amalfi Coast is sold to Japan for their sushi, while the anchovies are sent all around the world.
It is believed that Poseidon, the Greek god of the sea, founded the town of Positano. The town has numerous buildings with shallow rooftop domes. They are also filled with cafes and art galleries.
Do you know any interesting or fun facts about the Amalfi Coast that we've missed?  Share them with us in the comments section below!