10 Alluring Facts about Auckland
Ever ventured down into New Zealand before? If not, the city of Auckland may well be the first spot you'd like to explore. Auckland is easily one of the most dazzling cities in the world, but not many people know about its history, or what makes it truly special. So, with that clear in mind, here are some seriously fun facts about Auckland to help prepare you for your next vacation.
1. Where is Auckland?
Auckland is New Zealand's largest city bar none! You'll find it on the North Island, and it serves as the country's economic and cultural hub.
2. It's the City of Sails.
You may have heard of Auckland being referred to as the "City of Sails". This is because the city has an absolutely stunning waterfront and is surrounded by the Hauraki Gulf. It's a great place for sailing, boating, and water-based activities.
3. Duck and cover!
Auckland is built on a volcanic field! It is home to around 53 dormant or extinct volcanic cones. Some of the prominent ones include Mount Eden, One Tree Hill, and Rangitoto Island. It's unlikely you'll face an eruption when you travel, however.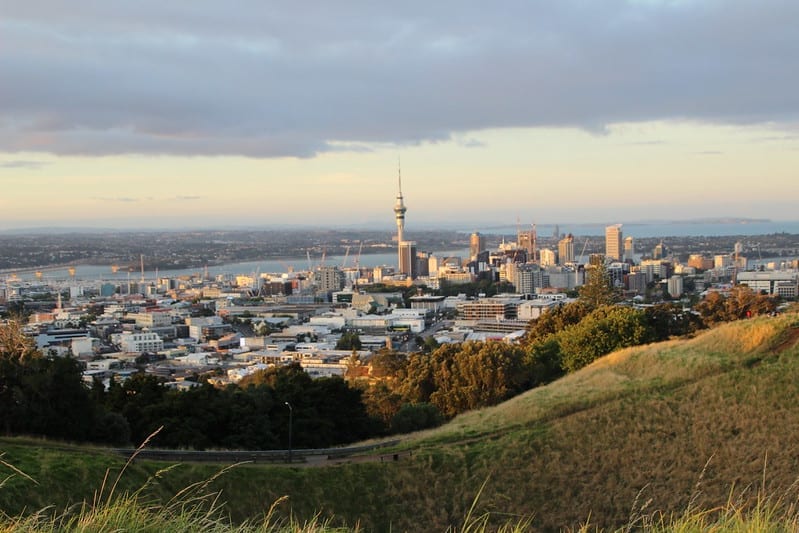 4. It's brimming with different cultures.
Auckland is pretty much the definition of a multicultural city! It has a diverse population, with a strong Māori presence, as well as other communities from various ethnic backgrounds.
5. Check out the Sky Tower!
If you know anything about Auckland, then chances are that you have heard of The Sky Tower! It is an iconic landmark in the heart of the city, and is also the tallest freestanding structure in the Southern Hemisphere! It offers panoramic views of the city beyond, and has great entertainment scenes, including a casino and restaurants.
6. Time to hit the beach!
Of course, Auckland is also well-known for its beautiful beaches. Popular beaches include Mission Bay, Piha Beach, Takapuna Beach, and Orewa Beach, where locals and visitors come together to enjoy the sun, sandy shores, and the sea!
7. There's more than just sand and sea out here.
If you have had your fill of the beaches (seriously?), then the Auckland Domain is a great alternative spot to explore. It is a large public park located close to the city center, and is particularly known for its beautiful gardens, walking paths, sports fields, and the Auckland War Memorial Museum.
8. Food, glorious food!
Although it may not be as well-known for it, Auckland is actually a haven for food lovers! Believe it or not, it has a thriving culinary scene. You can choose from fine dining establishments and street food markets that prepare incredible international cuisines as well as traditional Māori and Pacific Island flavors. To be fair, if you come all the way to New Zealand, that's probably what you should be eating!
There are hundreds of Auckland restaurants to choose from, and you can find something to fit any budget.

9. Sail away, sail away, sail away…
If you're interested in sailing, then why not come to see the America's Cup? It is a world-famous international sailing competition that happens to have a strong connection to Auckland, having hosted the competition multiple times.
10. It's a city full of festivals.
If sailing isn't your thing, then you'll be glad to know that Auckland hosts various festivals and events throughout the year! These include the Auckland Lantern Festival, Pasifika Festival, Auckland Arts Festival, and the Auckland Diwali Festival.
FAQs about Auckland
Why is Auckland popular?
Auckland is popular with tourists and New Zealanders thanks to its stunning skyscrapers, beautiful beaches, volcanic islands, and wonderful people. It's an immensely popular vacation spot, and well worth a visit if you're looking for more than just an Aussie adventure Down Under.
Is Auckland a fun city to live in?
Auckland is a great place to live! It has all of the amenities you'd expect from a big city, including great food, transport, cultural landmarks, and more. But, it also has the benefit of being very naturally beautiful, too! Just make sure to check those housing prices before you move…!
Is Auckland a city or a town?
Although it may be a little on the small side to some, Auckland is definitely a city, not a town! On the bright side, it's pretty easy to find your way around!
Further reading:
https://factcity.com/tag/New-Zealand
https://www.newzealand.com/int/auckland/
https://www.aucklandnz.com/
Do you know any fun facts about Auckland? Share them in the comments below!
This page was last modified on July 26, 2023. Suggest an edit