13 Brilliant Facts about Barcelona
Barcelona might not be the capital of Spain, but this vibrant city of culture and charm remains one of the most popular tourist destinations in the nation. Not only that, but it's both picturesque and memorable – and with plenty of history well worth tuning into.
How much do you know about this city? Let's take a look at these interesting facts about Barcelona!
Although Barcelona isn't the capital city of Spain, it is the capital of Spain's Catalonia region.
Barcelona is, oddly enough, a fairly pedestrian city. By that, we mean that many people here prefer to travel around on foot than via car. This, some suggest, may be as a result of a high level of car accidents in the region.
its population was 5.575 million in 2019, and is the biggest city on the Mediterranean Sea.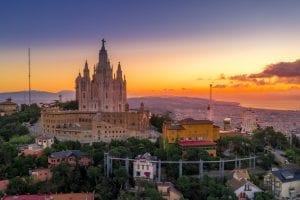 You might have been to a beach or two in Barcelona, but here's the catch – they are all artificially-made. In fact, it was the advent of the Summer Olympic Games in the city in 1992 which prompted officials and planners to put in sandy shores for the first time.
However, despite the non-natural sands, they are still hugely popular with tourists and locals. In fact, you can expect temperatures of up to 31 degrees C on the beaches during the summer.
Barcelona is well-known for being full of historical sites of interest. So much so, that there are at least nine different UNESCO landmarks here – it's pretty much a site of historical interest all on its own.
Barcelona plays host to the biggest stadium of its kind on the continent, with Camp Nou playing host to FC Barcelona.
No one's too sure about how the city came to be in the first place. There's dispute over whether it was built by either Hamilcar Barca, or Hercules! No matter which side of the debate you are on, it is well worth reading into the fascinating history!
The city is home to at least 12 abandoned metro links and stations which many people assume to be haunted – as they have been left to persist for some time. There's even a tour which will take you through the scary tunnels and lines if you're feeling brave enough.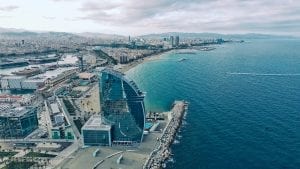 Awarded by the Royal Institute of British Architects, (RIBA), one of the highest plaudits in the world of architecture is the Royal Gold Medal, and it's normally awarded to individual people who make their mark in the world of building design. However, Barcelona remains the only city in history to receive a Gold Medal for its huge variety of stunning buildings.
While you might think that St Georges Day is an English holiday, it's actually widely celebrated in Barcelona, too. The locals celebrate it on April 23rd – as do the English – and it's become a day for feasting and sharing books!
Eixample's streets have a few unique twists to them. In fact, you'll likely see that there are no corners to the roads in the district! That's because the area was designed and built to make it easier for trams to move around. Again, it's another interesting fact about Barcelona transport which many people might not be aware of!
We love our food, and Spain is well known for its fantastic tapas, but did you know that Barcelona is home to over 75 Michelin star restaurants? Si!
Do you know any interesting or fun facts about Barcelona that we've not mentioned?  Share them here in the comments section below!